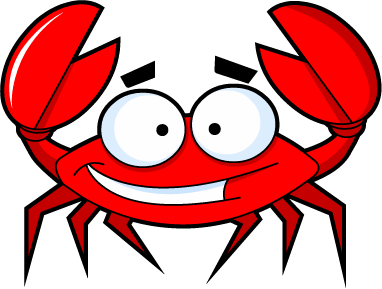 Have you ever heard of trading patterns called Gartley, Butterfly, Bat or even Crab?
If you did, then you probably come across harmonic trading as an approach to trading the markets.
Like most traders, I was enticed by this trading approach because it allows me to predict turning points in the market, have a good risk to reward ratio and draw beautiful patterns.
I went to research all I could and read every harmonic trading book out there. Then developed my own trading plan specifying how I will trade these harmonic patterns.
However, after trading it for a year I wasn't satisfied with my performance after executing more than 100 trades. So I reflect through my trading journal and I realized that harmonic trading had these 5 problems.
Now what I'm about to share with you is solely my opinion and I could very well be wrong. If you're offended by my thoughts, then stop reading this post and leave my website.
Are you ready?
Then let's begin…
1) Harmonic trading is subjective
If you consider trading as a business and not a hobby, then you must have a plan for everything. You do not want to make decisions which are subjective as it will affect your thought process.
And the first problem I faced with harmonic trading was the subjectivity of drawing out my X to A leg, aka the impulse leg.
Drawing any harmonic patterns requires the identification of the impulse leg, it is the foundation of all harmonic patterns. But if you were to pull up any chart, you can see that the market consists of many impulse legs, how do you choose the right one?
This is entirely up to the trader to decide.
So what can you do?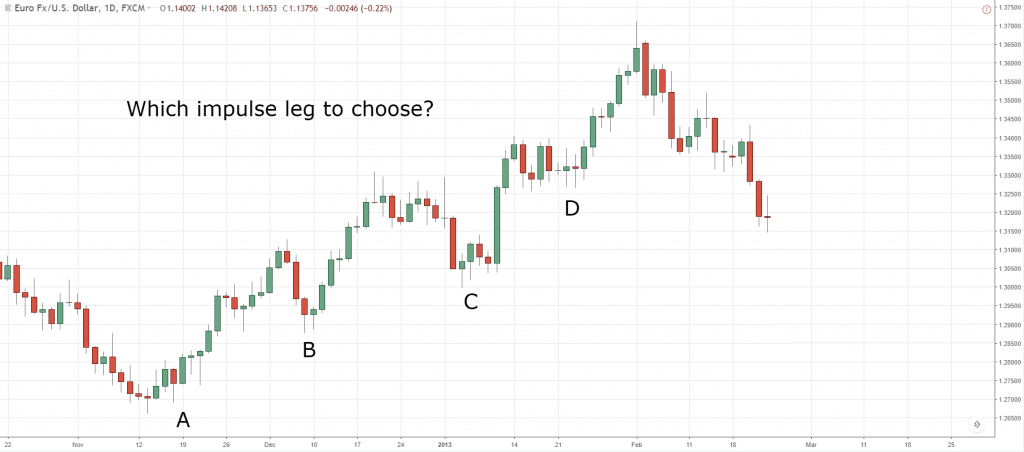 A possible solution to consider would be to select the impulse leg that coincides with a structure support or resistance. Above you can see that both C & D are at levels where previous resistance turned support.
Thus if you were to choose an impulse leg, C & D would provide an additional confluence to your trade. Because the more confluence you have, the higher the probability of your trade.
2) Wanting the market to see your pattern
There are repeatable patterns in the market, or else how are you going to develop your trading strategy?
Patterns can be in the form of higher highs and lows, consolidation before breaking out or range bound market etc.
In order to trade profitably, I must be confident of my trading strategy that can extract an "edge" in the markets. The trading strategy has to make sense to me before I even dare to use it.
Imagine price consolidates before breaking out lower repeatedly. During the consolidation, it tells me that there are traders taking profits and traders who are long with stops below the low of the consolidation.
If the price does break out lower, those who went long will have their stops triggered, traders will short the breakout to the downside, and I can expect lower prices to come.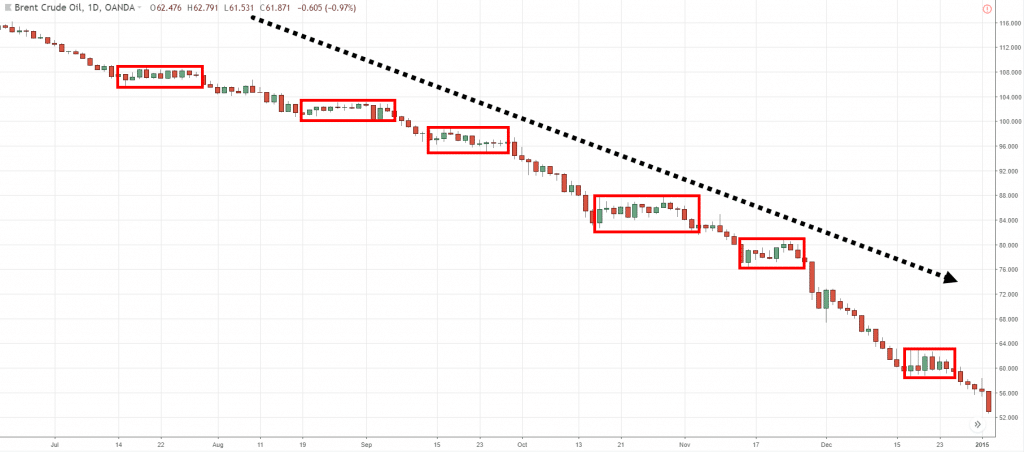 Consolidation before breakout
So with a simple pattern like consolidation before a breakout, there is logic and order behind it. However, when it comes to harmonic patterns, I can't seem to find any logic or a story behind the pattern.
Since harmonic pattern requires me to identify an impulse leg, I would choose the impulse leg that would give me a pattern. In other words, I wanted the market to see the pattern in my head. But in reality, the market doesn't care what I think. It moves when there's an imbalance between buying and selling pressure, nothing else.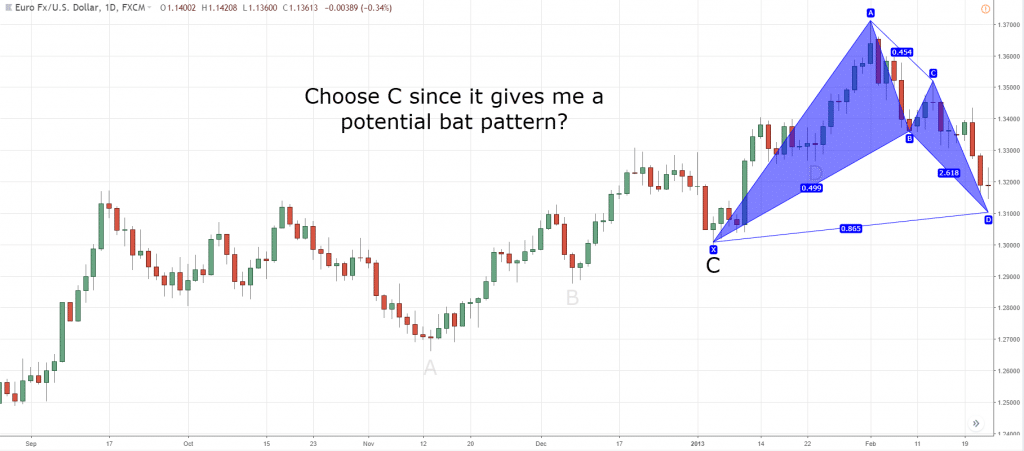 Choose C because it would give me a bat pattern?
Perhaps I would be more convinced if there are statistical tests that can prove Fibonacci has an edge in the markets. But statistical data I came across like Testing Fibonaccis (1/2) and Fibonacci Conclusion (2/2) says otherwise.
Now if you come across studies that show Fibonacci has an edge, please share with me as I will be glad to look at it.
3) Harmonic trading might cause you to miss big trends
It is in my personality to capture big moves in the market at the cost of lower winning percentage. When oil ramps up from $40 to $130 during the global financial crisis or the collapse of the agriculture markets in 2014. It gets me high.
However harmonic patterns are more prominent in range markets due to the way it is constructed, causing traders to miss opportunities in trending markets.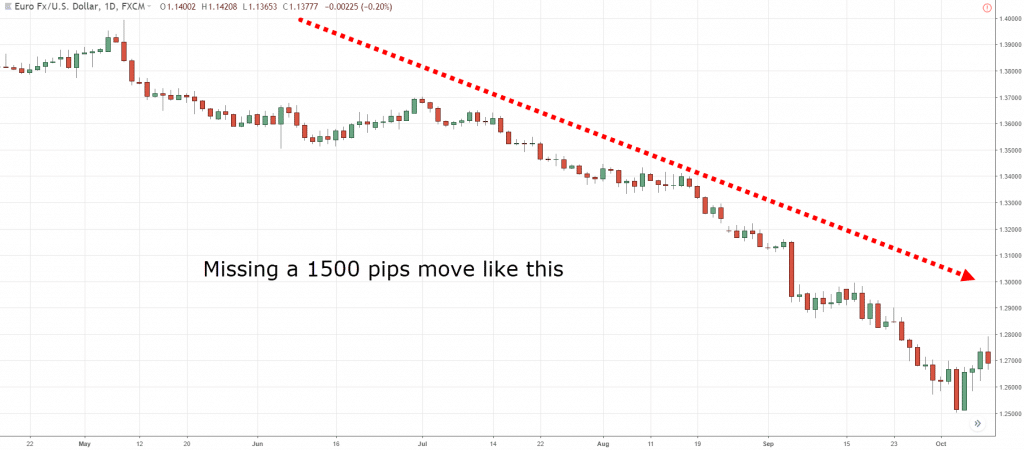 Furthermore, harmonic patterns that do appear in trending markets are usually against the trend. When you do trade harmonic patterns in this scenario, you will find yourself cutting your trades many times.
So, what can you do about it?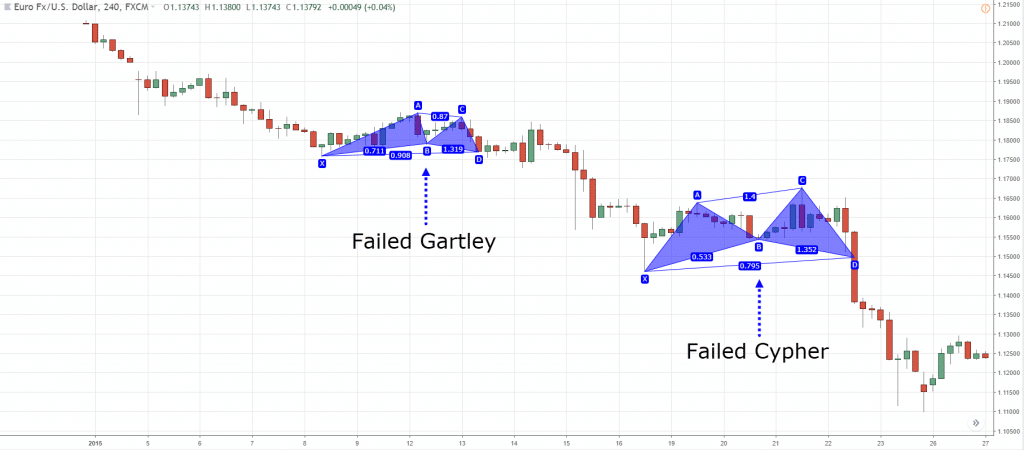 Losing 2 trades out of 2
Since harmonic trading performs poorly in trending markets, a logical solution would be to avoid trading harmonic patterns in a trending market.
And if you want to capture big trends in the market, adopt a trend following strategy.
4) What about range markets?
A range market is when the price is contained between Support and Resistance. A range market is favorable towards harmonic trading as these patterns are more prevalent in this market condition.
However, there are still scenarios whereby harmonic patterns may not be present in a range market, causing you to miss trading opportunities.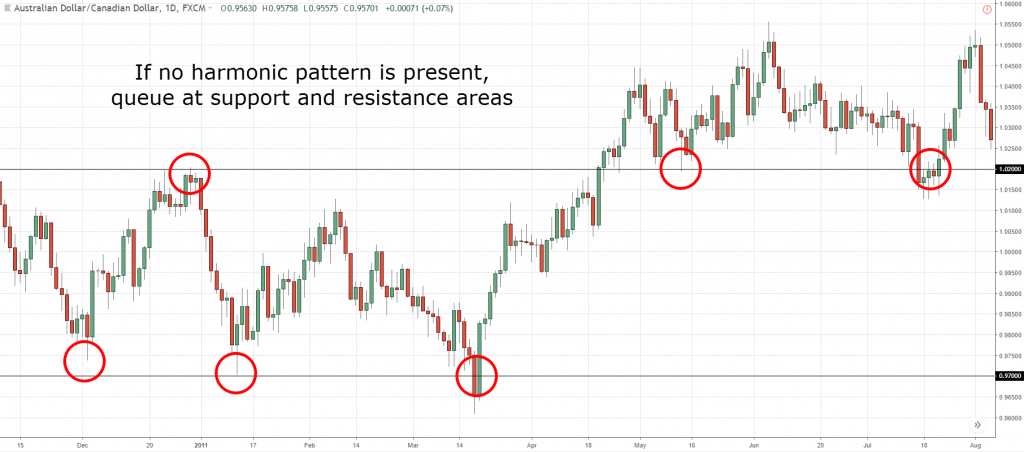 If you want to long in a range market but there is no bullish harmonic pattern, you can simply place your bid to long at support.
Likewise, if you want to short in a range market but there is no bearish harmonic pattern, you can simply place your offer to short at resistance.
After all, you want to buy low sell high, right?
5) Your stop loss gets "hunted"
If you read most trading books or attend trading courses, they will teach you to place your stops just below the support or above the resistance. Thus it is no surprise to find stops below the low of candle wicks and high of candle wicks.
And you know what happens when your stops are placed at an obvious level? It gets hunted.
Why?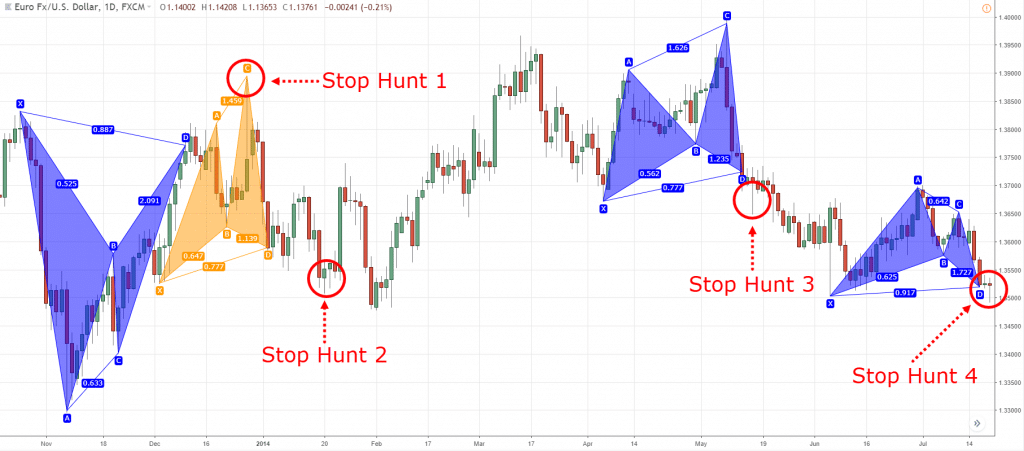 Typical stop hunt
Because when you have enough traders placing stops in close proximity, it becomes an incentive for dealers to hunt them for quick profits. When your stops below support get triggered, you will be selling to the dealers who will be buying from you. How do you overcome this problem?
I would suggest you place your stops a distance away from X to give it more breathing room to withstand a stop hunt. You can consider using 2ATR as a gauge of how far away your stops should be.
This way if you do get stopped out of the trade, you clearly know the harmonic pattern has failed.
Conclusion
Just like any other trading strategies whether it's harmonic trading, price action trading, or Trend Following — there are pros & cons to it.
As a trader, you have to know the pitfalls of your trading approach and apply proper risk management.
Now here's a question for you…
What's your take on Harmonic Trading?
Leave a comment below and let me know your thoughts.