I remember when I was about 18 years old, one of the first jobs that I got was at an events company.
My personal experience with a 9 to 5 job
I helped to build those tents that you see at a carnival and I tear it down when the event is over.
That was pretty much what I did at 18 as a part-time job. That was me back then.
I was a little bit buffer than I am now because back then I was hitting the gym regularly, plus I had a job which allowed me to move physically.
That helped to keep me in shape. I did that for a few years and it was fun doing with my friends, laughing and going crazy.
I did that for a few years and then slowly like most things that you do, you start to feel sick and tired after a while, and it's the same for this job that I had.
Long hours
I started to feel tired because the hours were long. I work anywhere from 10- 16 hours a day if it's a big event.
Income ceiling
And I realized that there's an income ceiling to what I'm doing. I get paid like $8 an hour back then.
If I work 10 hours a day, that's $80 if I work about 20 hours a day, that's $160 and I know that there's a limit to my time.
In other words, there's a limit to how much I can potentially earn, so that was the first lesson that I had from that job, that there is an income ceiling when you work in a 9-5 job.
Replaced by younger, cheaper and faster workers
And also, I realized at that job, when I first got in, I was replacing people who were older than me, who were not so mobile or they were tired, they have some injuries. They couldn't do this job anymore, so I was replacing them.
When I did this for a few years, I kind of realized that the young people are coming in and starting to eventually replace me. They are cheaper, better and faster than me.
I knew that this is something that I cannot do for long because the people who are coming in just keeps getting younger. After all, I'm getting older.
Let me share with you a story…
I was having a long day at the event, tearing down as usual, and there's this 6-year-old boy who saw me.
He didn't say this to me in my face, but he said it in Chinese to one of my colleagues. In English, it means "this uncle is ugly".
He said that I was ugly. So, imagine when you work so hard under the sun, you're slogging your guts out then you have a comment from this little kid who said, "You're ugly".
I didn't feel good, to be honest. To this day, I still remember it. You can see how much of an impact it had on me.
That was one of the key moments that I had that wasn't too good. And it comes with part of the job.
The best thing that happened
Yeah, so I was at this job for a few years and slowly, I was at a crossroad.
I could either further my education at a SIM global education to get my degree, or I could continue working part-time and study the degree part-time as well. I had just two choices.
Finally, I decided to go all-in with my studies and see how far it brings me. So that's where I stopped working the part-time events job.
And I go all in my studies, and I would say it's one of the best decisions I've made, not because of the results that I had from my school.
But because when I go all in to study at the university, I had time to explore what other curricula that might interest me.
Exposed to the world of trading
On a good day, a broker came down to my university and organized a trading competition.
It's on a demo account and I figured, "This seems interesting. Let me just get my tool suite and see what trading is all about."
After two days, boom! I blew up my trading account.
I learned a few things.
Firstly, In trading, there's no income ceiling. I realized because there's no limit to how much you can potentially make. The larger your account size, the more money you could make.
That's when I realize your limited time does not cap your earning potential.
Secondly, I realized that in trading, I don't have to answer to anyone.
No boss, no colleague, no one calling me ugly. I'm in control. I'm in charge, and that's the second thing that I realized.
Trading offers a lot of freedom and there's no one to answer to.
I realized that this is so different from what I did previously, so I decided to go all in and learn about trading.
You know what, as a university kid, I didn't have much money. So, I did what any other university student would do.
I hopped around the internet, YouTube, Facebook or a website's blog to learn all about trading. I learned stuff like trading indicators, support and resistance, candlestick patterns, and chart patterns, etc.
That was my stepping stone into trading.
I learned everything that I could get my hands on. And after a few years even after I graduated from university, my trading results were still bad.
I was still a losing trader, to be honest, and I was puzzled. And I graduated with a degree with First-Class Honours and I couldn't even make my trading account profitable in the green.
I was puzzled. Why is this a case?
It's nothing to do with IQ. It's something which I'm doing that's wrong.
I decided to find out the answers. What am I doing wrong?
At that point, I could go for a regular 9-5 job, or I could seek answers, join a trading firm and see what the professional traders were doing that I'm not and learn from them.
I decided to get into prop trading. And fortunately, after about 6-months to a year of job hunting, I got into a firm that hired me as a proprietary futures trader.
And that's where I get to see what these professional traders were doing.
That's when I realized that the reason, I was losing money is because I didn't have an edge in the markets.
You must have an edge in the markets
That's what these professional traders had. They have an edge in the markets and that's why they are making money consistently.
The reason why I didn't have an edge in the market is that I was trying everything.
I couldn't focus on one thing to find out whether it works or not and I dabbled here and there a little bit. After a few losing trades, I would try something else.
That's why I couldn't get an edge in a market.
What is an edge?
An edge in the markets is something that you do repeatedly which makes you money.
Let's use a coin toss example. Let's say you have a coin, and every time the coin comes up head you get $2, every time the coin comes up tail you lose $1.
And you know when you flip a coin heads or tail, it's 50-50 chance.
In the long run, you know that the more times you flip this coin, the more money you're going to make.
Why is that?
Because you have an edge in this coin toss and the one who is gambling against you, doesn't have an edge. It's a negative expectancy. This is the same for trading.
Your trading system, your trading strategy must have an edge in the market. Without it, you'll never be a consistently profitable trader.
When I realize it was that I was like, "Okay, an edge, so important. How do I find it?"
I studied academic research papers. I talked to successful traders. I see what they are doing, why it's working, and I go all in to find my edge in the markets.
Eventually, I found my edge in the market.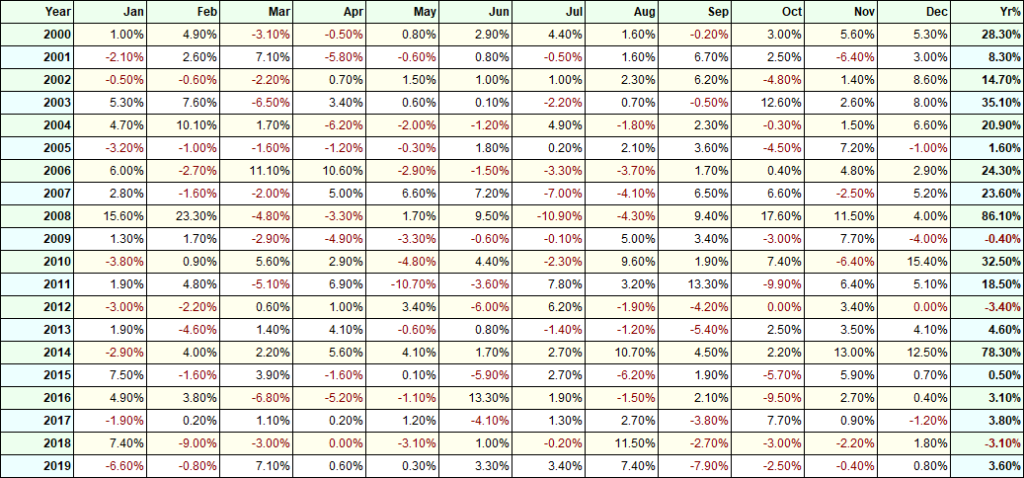 And this is one of the trading systems I've developed. You can see that this trading system over the last 19 years made money in most years.
But generally, you can see that in the long run, this system makes money once you have an edge in markets. Once I have an edge in markets, I became confident.
I started to trade larger and larger sums of money because once you know that you have something that works you will have the confidence, the courage, to trade larger accounts, five figures, six figures, and possibly even seven figures account.
This is one of the live trading accounts that I trade.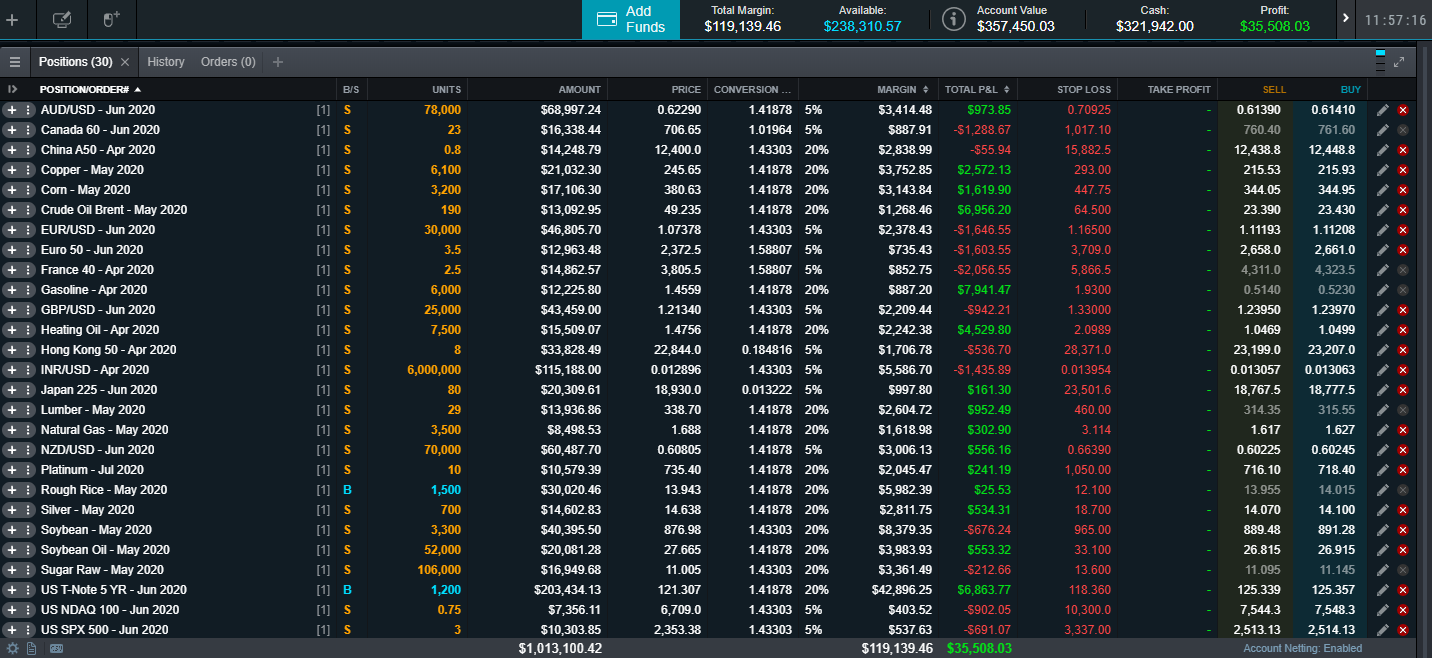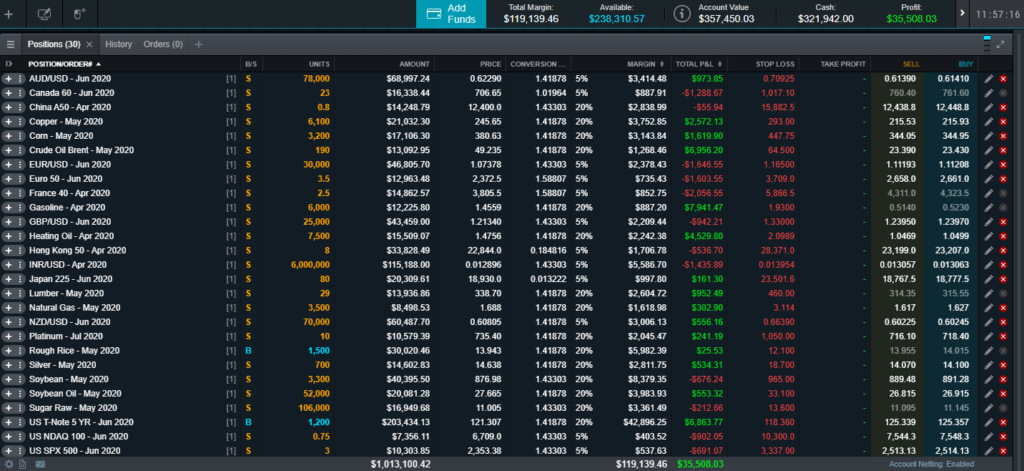 You can see that right now it's about $320,000. This is a trading account that I'm trading, and that's possible because I have in edge in the markets.
Once I have an edge market, do you know how I felt? I felt vindicated because all my efforts were not wasted.
I've got an edge in the markets, I've got a skill no one can take away. I don't have to answer to anyone or anything. I got something which could feed me and my family for the rest of our lives.
Can you imagine trying so many things but having no results to show for?
I especially fear the question when someone asks me:
"Hey Rayner, you've been trading for the last three years. How are your results?
I was like, "Well, I'm still not making money. I'm still breakeven."
You know I had difficulties showing them the proof because the truth is that I wasn't making money, even though I've spent so much time on this thing.
So, when I have an edge in markets where I could profit from the market consistently, I felt vindicated. I realized that I've got a skill that no one can take away from me.
This skill is mine, and you know, my ownership to it. I don't have to answer to anyone. There is no boss, no colleagues, no company to answer to.
Trading is all on me and I realized that trading is something that you know you can use to feed yourself or your family for the rest of your life.
As long as you have an edge in the market, you have the capital to trade with, you have something that could earn you a return for the rest of your life. This was how I felt, when I had an edge in the market, and probably you will feel the same way too with an edge.
But now this is not me trying to brag. This entire video is not about me. It's about you.
And the question is…
Why can't most traders get an edge in the market?
That is the question.
Let me share with you a few reasons why most traders don't find an edge.
You focus on the wrong things, like:
Psychology
Risk management
Relying on fundamental analysis
You follow what most traders do
I don't blame you because if you study books, websites, they talk about trading psychology, how psychology is 80% of trading.
1. Psychology
Think about this, if psychology is 80% of trading, meaning psychology is the most important component, right?
Then if you can go down to any casino nearby your house, you can bring your hypnotist and psychologist with you to be able to prep you for the gamble that is about to occur in a casino.
I can guarantee you that you'll still lose money in the long run to the casino.
If that is the case or if psychology is the most important, the richest people in the world are psychologists or hypnosis because they can psych themselves up to prepare right for the mental challenge.
But it's not true. Psychology is important in trading, but it's not the most important thing.
2. Risk management
You can have the best risk management in the world. You can risk 1% on your trade and you get a minimum of a 1:2 risk-reward ratio on every trade.
But I can guarantee you that without an edge, you'll still lose money.
You can bet with me maybe 0.5% of your capital on each gamble of the coin toss.
Let's say, for example, every head you win $2 and every tail, I lose $1.
No matter what risk management I use, I'm still going to lose money to you in the long run. The risk management only dictates how fast or slow I lose my money. But in the grand scheme of things, I'm still going to lose my money.
Remember, when you want to find an edge in the market. Don't just focus on trading psychology and your risk management. They are important.
But without an edge, these two components are useless. I'll be honest with you.
3. Relying on fundamental analysis
You rely on fundamental analysis to make your trading decisions, and this is not smart.
I'm sure you've noticed, that the price can go up on bad news or even go down on good news.
Why is that?
It's because the market isn't reacting to whether the news is positive or negative.
The market is reacting to the people's expectations of the news.
So, if you're going to make money with fundamental analysis, you need to predict what are people's expectations towards the news.
For example, let's say the market comes up, a good piece of bullish news, but the price drops.
Why is that? Maybe it's because the good news is not as good as they expected.
Let's keep things simple. Let's say in the earnings report, a company made a profit of $20 million a year. But the stock dropped. Why is that?
Maybe the expectations were that the earnings would be $50 million.
We can see that is good news, but not good enough to warrant a price increase.
So that's what I mean by there is the possibility of price going up on bad news and going down on good news.
Another thing about fundamentals is that it is like technical analysis. There are hundreds of factors out there. You can look at revenue, net income, liabilities, assets, PE ratio, PB ratio, cash flow.
There are just so many things to look at. So many factors. How do you know which factor to pay attention to?
And maybe if you know which factors to pay attention to, how much of weight should you give to the factors? 70% or maybe 50% weightage?  How do you know which factors are more important than the other factors?
You can see that when you use fundamentals to trade, it's not a good idea.
So, if you are thinking of you're going down this route, please step back. Don't dig the hole further because this isn't the way.
Here's one example you can see: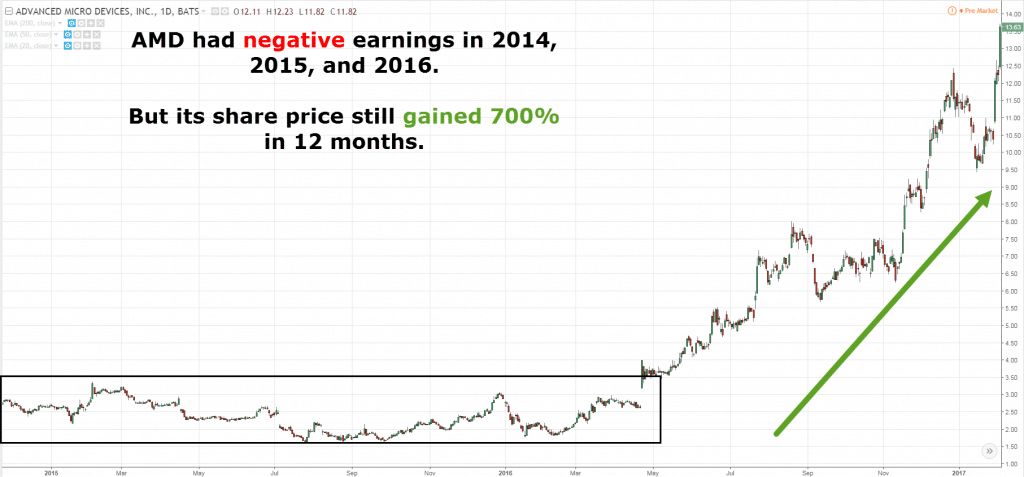 AMD stock rose when they had negative earnings in 2014-2016. But the share price still gained 700% in 12 months.
How do you explain that? To be honest, the only way I can explain is I would just say price broke out.
The path of least resistance is up, time to buy.
And for those of you who are using fundamentals to trade and invest. And you say,
"Oh man, earnings are bad, let me short the markets."
I mean, you'll get toasted. You get killed in this scenario.
So, fundamentals aren't the solution right to finding your edge in trading.
4. You follow what 99% of traders do
The reason why you don't have an edge is that you follow what 99% of traders do.
What do 99% of traders do?
Well, they blindly use chart patterns, wave counting (Elliot wave), trading indicators, chart patterns,
"Oh look, Rayner, head, and shoulder, let me short this pattern."
"Hey Rayner, let me count the number of waves. Oh look, this is wave three the strongest wave, let me buy."
Or
"Hey, Rayner the MACD is oversold, let me buy."
Here's the thing. If you're going to use the same tools as other traders, that's not wrong.
You can use the same tools, but if you use the same tools and you interpret these tools the same way as the other traders then that is wrong.
Because if you follow what 99% of traders are doing and most traders lose money in the long run, you're asking for trouble as well.
Now the question is, what do 1% of the traders do differently?
What do winning traders do differently?
That's what I'll talk about in my next video, but for not for now.
Here's what I want to know…
What are the things you have tried in trading?
Leave a comment below, share your thoughts with me.