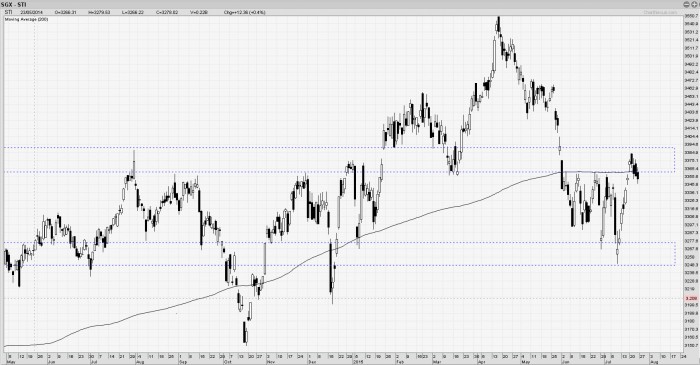 5 Facts About STI
Here are 5 Facts about STI, Read on!
1) The 200 day moving average is currently flat with bulls and bears vying for control.
2) Price is currently falling back into the range after attempting to breakout a 7 days ago.
3) Price is contained within the range between 3390 and 3250.
4) The 52 week high is at 3550 and 52 week low at 3250.
5) The average true range has been declining over the last 2 weeks, signalling lack of volatility in recent times.
Trading Plan
The STI is currently at resistance area.
If the resistance holds up, we could see a slide back towards the 2015 lows.
The best picks would be stocks which are in a downtrend like Noble and Ezra.
Kindly do your own due diligence. As always, comments are welcomed and encouraged. Cheers!
Do you want to learn a new trading strategy that allows you to profit in bull and bear markets? 
In my FREE trading course (valued at $48), I will teach you this powerful trading strategy step by step, along with charts and examples.
You can download it here for FREE.