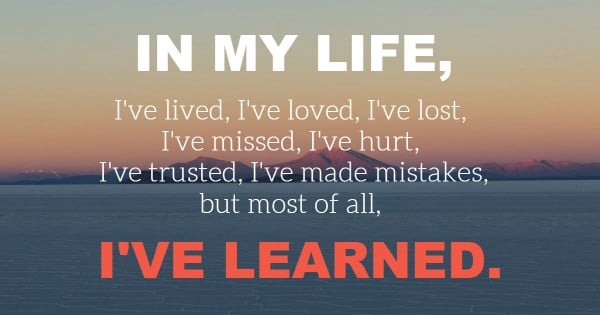 *Updated on December 2016
Here's the thing:
What I'm about to share with you is not taught in school and it's likely your parents have not told you as well.
In my opinion… these are the most valuable lessons I've learned over the last 29 years.
And If I ever set up a school, you can be sure these are lessons that will be taught — and you will not graduate until you pass with flying unicorns and rainbows.
Now since I've not set up a school…
…the closest thing you can get is to read this post because you will learn:
How to master the art of persuasion without pissing people off
How to get a smile from others everywhere you go — even if you are an introvert
How to invest in yourself and get ahead in this NEW economy
The secret to having a happy and fulfilling life that you deserve
Why paper qualification is DEAD and what  you can do about it (to get out of the rat race)
Are you excited?
Then let's begin…
1. Remember names and you'll be rewarded
You want to be respected.
You want to be appreciated.
You want to be noticed.
And I can give all these to you, by calling out your name.
Not "hey", "hello", or "sup"
But…
"Hi, Rayner!"
It makes a world of difference. Don't believe me?
Check this out…
I frequently hit the gym. Before I could hit the weights section, I need to approach the receptionist, to register myself and collect my towel.
There's this Malay girl who has the blackest face ever. She's never in a good mood, and I'm always given the "take your towel and get the f*** out of here" attitude.
Then one day…
I decided to squint my eyes at her name tag and acknowledge her, by her name.
Guess what?
Her eyes lit up and gave me the biggest smile ever. And if you think its a one-off event, heck no.
Every subsequent time I see her, I'm always treated with her big bright eyes and beautiful smile. And it's all because I called her by her…
…name.
On top of it, gym members who register after me, are greeted by the positive attitude of hers (instead of the charcoal blackface).
Can you see how powerful this is?
If you don't believe me, try this out yourself. Go down to McDonald, order a double cheeseburger, without cheese and bun.
The person might think you're crazy, but if you just call out his/her name, you'll be treated like a VIP customer.
If you're wondering where I learned this from, it's from the book, How to win friends and influence people, by Dale Carnegie (I highly recommend every living soul to read this book).
Let's move on…
2. "What's in it for me?"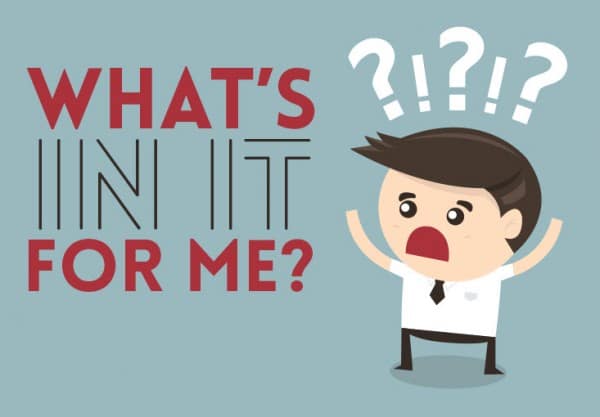 If you want to get ignored by me, do this…
Hey, my name is John, from ABC broker.

I would like you to try our new trading platform that I'm sure your subscribers would love.

Do you want to meet up for coffee to discuss this further?

– John
And, this is the problem…
Do I know you?
What makes you think, my subscribers would like what you have to offer?
What's in it for me?
Let's be honest.
You only care about yourself. You don't care whether the sun is going to explode. You don't care whether the world will end next week.
You only care when your next paycheck is coming… right?
So if you want to pitch a product or a service, always let the other party know, what's in it for me?
Here's an example of how John, could have done better…
Hello Rayner!

My name is John and I've been following your blog for the past one year. I truly enjoyed your posting, and it has improved my trading tremendously.

I understand you have a Trend Following Mentorship Program going on, which will greatly benefit my clients. 

Would you be interested to hold a seminar with my clients, and teach them more about Trend Following? At the end of it, you can share with them what you have to offer (what's in it for me).

You can invite your subscribers along, as we have enough room to fit 100 pax.

I hope to hear from you soon!

– John
Would I reply this time?
Of course!
Now, here's a story on how I used this principle…
Back in the army, I had this irritating company sergeant major (CSM). He's the kind of person that is never wrong, loves to reject ideas, and is obsessed with area cleaning.
So, I was currently sleeping in a 12 men bunk, that consists of 6 ceiling fans. Unfortunately, I wasn't under any of the fans.
Needless to say, I wanted to shift my bed to be under the ceiling fan, so I can keep myself cool at night.
I knew that if I told him the truth, about why I wanted to shift my bed, I would be rejected flat.
So, here's what I did instead…
Encik (is how I address him), I love to do area cleaning, but my bed is in the way.
This makes it difficult for me to do a thorough cleaning at the hidden corners.
May I request my bed to be shifted so I can do a better job in area cleaning (what's in it for him)?
Did he agree?
You bet!
And "miraculously", my bed was shifted under the ceiling fan.
Get my point?
3. There's no such thing as failure, only feedback
This is a lesson that I've learned from being a commando, in my army days.
The word failure is used by those who accept it.
But to those who don't accept it, it's feedback.
Think about this…
If you set out a goal and you're not getting the results you want, what's it telling you?
It's telling you that, whatever you're doing, is clearly not working out (and this is feedback).
Take me for an example…
When I was in university, I had a subject called Financial Intermediary (FI).
I took a few tests on it but always scored poorly.
I could say "Damn it, I'm not cut out for theory papers".
Or…
I could tell myself "Okay clearly my style of writing isn't working. Let me get into the head of my lecturer, and find out what she wants".
Can you see how I'm taking this as feedback?
So I started questioning my lecturer on what I'm doing wrong, and what needs to improve.
And it paid off!
I was the top scorer for FI for that year.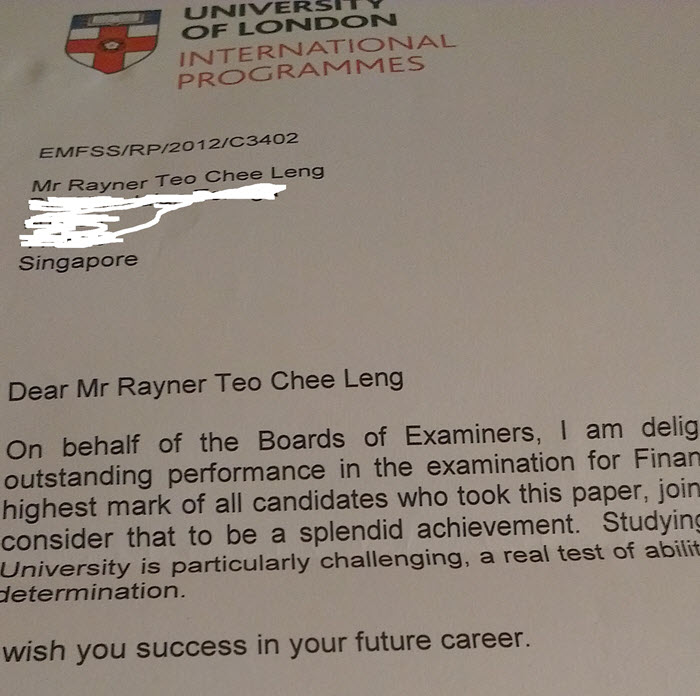 [easy-tweet tweet="Remember. There's no such thing as failure, only feedback." user="Rayner_Teo"]
4. Focus on the intention, not the action
It's easy to get annoyed when someone does an action, that is inappropriate.
But if you focus on their intention, it usually paints a different picture.
Here's what I mean:
My dad often fetches our family in his car. Sometimes I don't understand why he chooses a particular route, which takes a longer time to our destination.
Sometimes I don't understand why he chooses a particular route, which takes a longer time to our destination.
To be honest, it irritates me.
Then I started thinking along these lines…
"Does my dad want to take a longer route, waste more petrol, and time?"
Of course not. He's probably unaware of a shorter route, and he needs my feedback.
So, looking at it his actions, you may think he's an idiot. But understanding his intention, he only means well.
I know you probably have lots of "idiots" in your life, doing actions you can't comprehend. But instead of focusing on their actions, think about their intention.
Does it paint a different story?
5. Give without expecting anything in return (my secret to a happy life)
Here's the thing…
Most people give and expect something in return. When they don't receive it, they feel disappointed, cheated or even betrayed.
But when you give without expecting anything in return, you'll never feel this way. Because you don't expect anything to start with.
And if you do get something in return, you'll be happy because it came as a surprise. Don't we all love surprises?
The funny thing is this…
…when you give wholeheartedly, you will always be rewarded in more ways than one. Call it karma, paying it forward or whatever. But I've seen it worked firsthand myself.
Let me share with you two real-life examples:
Collin Seow, a top-tier remisier in Phillip Securities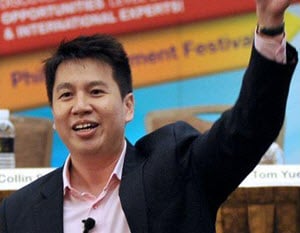 My friend, Collin Seow is a perfect example.
He recently launched his book, The Systematic Trader, and our conversation went something like this…
Me: What's the difference between the content in your book and your trading course?
Collin: The book is for those who couldn't afford to attend my trading course, and its the same thing I teach in my trading course.
Me: Wouldn't it cannibalize your education business, as traders would buy the book and not attend your course?
Collin: Not really because there are traders who bought the book, and still attend the course. I believe in giving 100% and not hold anything back.
Collin's philosophy in life is amazing and he is definitely one of the happier friends I have around.
Neil Patel, a top 100 entrepreneur under the age of 30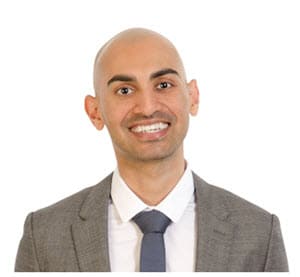 To tell you the truth…
TradingwithRayner wouldn't be where it is, without Neil Patel.
Although I don't know him personally, his blog, Quicksprout has taught me so much about marketing, business, and life.
Here's a sample of what you can get on his blog:
Do you know what's the best part?
Everything on his blog is FREE (while others charge thousands for). And I can dare say, he has literally changed my life, for the better.
Now…
Do you think Collin and Neil got where they are today, by taking?
Nope. They deserve everything they've got because they have so much to, GIVE.
6. Happiness comes from within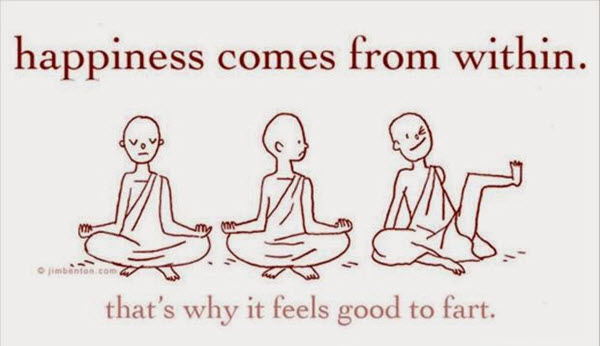 No one is going to make you happy.
Not your mom. Not your dad. Not your spouse.
Then who can make you happy?
YOU, yourself.
Some families I know have barely enough to get by, have simple meals at home (because they couldn't afford to eat out), but they're contented.
On the other hand…
I've seen families who are rich, spend without thinking twice but are miserable.
Now, don't get me wrong. I'm not saying rich people are miserable. Instead… I'm telling you that, just because you have "everything" on the outside, doesn't mean you'll be happy on the inside.
Happiness comes from within.
It comes from how you appreciate the little things in life (like eating a Burrito with your spouse, outside a shopping mall because there's no space inside).
It comes from knowing your family and friends, are always there for you.
It comes from giving, without expecting anything in return.
7. Put yourself in other's shoe
We're always quick to pass a judgment when someone's action doesn't meet our expectations.
Here's a story that happened some time ago…
I was reading the newspaper, and it reported a thief was caught stealing a loaf of bread.
My judgment on him was something like this…
LOL, a loaf of bread? What an idiot. You deserved to get caught for stealing. 
Then, I came across the background of the thief on social media…
He is a 65-year-old unemployed man, with no kids, and a bedridden wife to look after. He's struggling to meet ends meet and, is surviving on the food provided by social workers. Some days, he eats as little as one slice of bread, only.
He decided to steal a loaf of bread because his wife was hungry and, he has nothing else to offer her.
My lesson learned is this:
Don't be too quick to judge others because we're not in their shoes.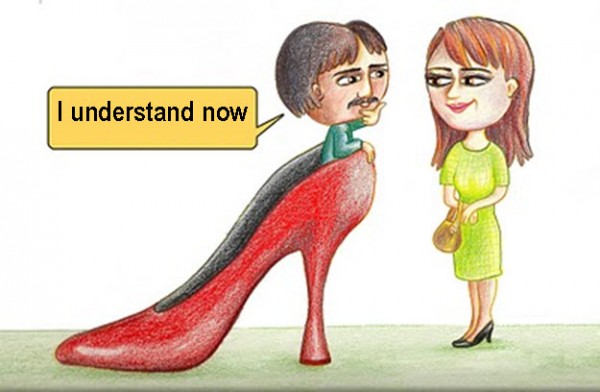 8. Your greatest investment is, in yourself
Why are you being paid?
Think hard.
Think…
Think…
Think…
Have you figured?
Okay, here's why…
We're all being paid to solve problems, in one way or another. The bigger the problems you solve, the more money you'll make.
A road cleaner is being paid, to clean up the streets (solving dirty roads problem).
A CEO is being paid, to ensure the survival of a company's future (solving whatever problems at hand).
A teacher is being paid, to impart knowledge to the future generations (solving the problem of transferring knowledge from one head to another).
Now, the silver question is this…
How do you solve problems?
By increasing YOUR KNOWLEDGE.
When you have more knowledge, you think of more solutions. When you think of more solutions, you solve more problems.
When you solve more problems, you start solving bigger problems. When you start solving bigger problems, you start making big money.
Investing in yourself is the best thing you can do. Anything that improves your own talent; nobody can tax it or take it away from you. – Warren Buffet
Now, the golden question is this…
How do you increase your knowledge?
The easiest way to do it is, read more books. Or better still, go to the library and borrow them (it's free). Try to beat this, for an ROI.
Here's the number of books I've read over the last 3.5 years…

If you do the math, I read an average of 1.57 book per week.
And this does not include books I've bought, training videos I've watched, and seminars I've attended.
By increasing my knowledge and applying it accordingly…
It allowed me to be a profitable trader, be an entrepreneur, and have no boss to answer to (okay, maybe except my wife).
Remember:
Your greatest investment is not in your stocks, properties or children.
But in yourself.
9. Chasing paper qualifications is dead
This tactic may have worked 30 years ago when things were much slower back then. And having paper qualifications is a sign of your capabilities and intelligence.
Fast forward to today, things have changed…a lot. The same tactic that worked 30 years ago doesn't work anymore, and may even put you at a disadvantage.
Let me explain why…
I'm sure you agree with me that the #1 goal of a company is to make more profits, right?
And it can be achieved by:
Increasing revenue
Reducing expense
This means…
If you are chasing paper qualifications (a Masters, Ph.D., and etc.), you want to ask yourself whether it helps your firm increase revenue or decrease expense.
If you answer yes, then you are more valuable in the eyes of your company and you are likely to be compensated accordingly.
But…
If you answer no, then you're just another commodity in the eyes of your firm who invested $30,000 in a piece of paper that doesn't make you any more productive. To make things worse, you are now $30,000 poorer compared to the next guy on the street (and that puts you at a disadvantage).
So, what now?
Well, if you can justify the cost of further education will yield you a positive ROI, go for it. And if it doesn't, forget it.
Don't worry.
All is not lost because you can put your money to better use like…
Learn how to grow your money
Creating value
Learning a "forever in demand" skill
Let me explain…
Learn how to grow your money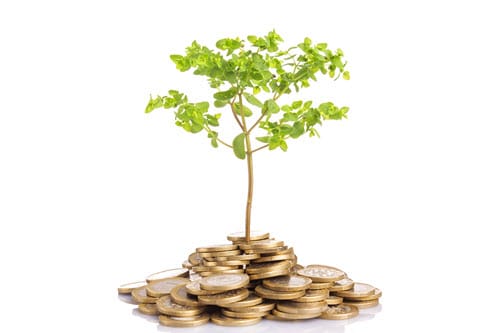 There are different ways to do it like investing, trading, renting properties, and etc.
It's important not to dive in straight and go "all in" because you will likely get burn. Instead, take up a course, read related books, learn from the experience of others before you.
Besides…
You have Google, Youtube, and a library which is more than enough to get you started.
If you're interested in trading, then these are books I would recommend reading.
Creating value
You're probably wondering:
"What is value?"
I define it as doing something that is appreciated by others and gets you paid for it.
For example:
Amazon creates value by making online shopping possible
DHL gets your stuff shipped anywhere across the world
Netflix allows you to be entertained anytime you want
Now, I'm not asking you to be the next Amazon, DHL, or Netflix. I'm just illustrating to you what it means to create value.
Perhaps you have a "hidden" talent for playing the guitar. And you have friends and relatives bugging you to teach them how to play it.
So, what can you do?
Well, you can create a series of videos teaching them how to play the guitar. You get paid for it and they are now happier after learning this new skill set.
Learn a "forever in demand" skill
If you ask me, there is a certain skill set that is always in demand throughout the ages.  And one of them is selling.
If you ask me, this is one of the skills that can feed you for the rest of your life.
Think about this… you have been selling yourself since the day you were born.
Selling to your parents why they should buy you the latest iPhone.
Selling to your kids why they should do their homework.
Selling to your employer why they should increase your salary.
But the funny thing is whenever you hear the word "sell", you immediately run away.
Look, I'm not asking you to sell snake oil, potions, and shit.
Instead, I'm asking you to learn how to sell something that provides value.  
What are the biggest lessons you've learned?
This was the question I posted in our trading community, and here's what they said…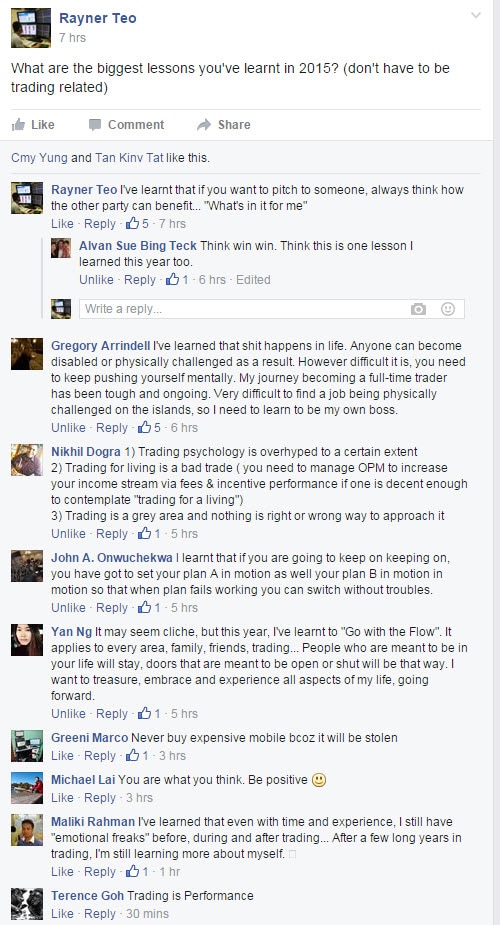 Conclusion
If you're still reading at this point, then congratulations! I've just shared with you, my biggest secrets in life.
I can't promise you'll be a millionaire if you apply these lessons. But I can assure you that, you'll lead a happier and more fulfilling life.
So, what are some of the biggest lessons you've learned this year?