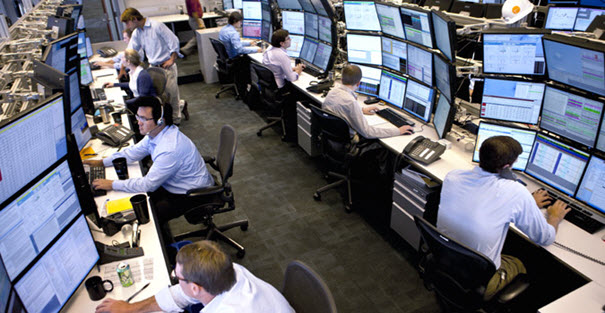 You love trading.
Your dream job is to be a proprietary trader.
But reality sinks in.
You realized that getting proprietary trading jobs isn't easy. You've tried but just can't seem to get a single interview.
Or perhaps..
You've been to a few interviews only to be rejected.
Now you're wondering:
What does it take to get a job in proprietary trading?
How to become a prop trader?
Don't worry. Because in this post, I'll share with you exactly what it takes to get a job in proprietary trading.
If you're interested in being a proprietary trader, you'd want to read every single word of this post.
What is proprietary trading?
Proprietary trading is when a bank, firm or other any financial institution trades on its own account rather than on behalf of a customer.
The instruments traded can be anything from options, futures, currencies, derivatives etc.
Proprietary trading involves risking the firm's capital, thus any profits or losses are borne entirely by the firm.
It is a highly sought-after job as traders don't need to cough up with any capital, receives professional training from seasoned traders, and still get a share of profits if he makes money.
No surprise to see many fresh graduates applying for such a role, me included.
But the interesting aspect about trading is that your IQ has little to do with successful trading. I have seen traders who made millions with an O levels education, and traders who failed even with a masters degree.
The fact is:
Proprietary trading firms aren't looking to hire candidates with the best educational background or the highest IQ.
So what are they looking for?
Let me tell you, as this will be crucial on how to become a proprietary trader…
Proprietary trading jobs, what is required?
1. Passion
Just like anything else in life, if you have no passion in what you're doing, you will not give your 100%.
The same goes for trading. You must have a passion for it in order to succeed.
So what is a passion for trading?
It is not reading a few books on trading and thinking you got it.
Neither is it going to forums looking for the best trading strategy. These are hobbies and hobbies cost money.
Instead…
Passion is devoting countless hours each day, weeks, months and even years to improve yourself. To get better and better each day, yet staying humble all the way.
You will be reading hundreds of trading books, spending infinite hours watching trading videos, and having a trading journal to record down your progress as a trader.
Does it sound like hard work?
This is the passion for trading.
2. Prove it
When you're interviewing for a proprietary trading job, you must convince the interviewer about your passion for trading, and your ability to persevere.
How can you prove it?
The best way is to start trading on your own retail account. By showing the interviewer your own trading records, it tells them you are passionate about trading and actually walk the talk.
This will make you stand out from the thousands of applicants you are competing with.
Even if you're a losing trader, it doesn't matter.
Because it tells them you are accepting your current status (a losing trader), and want to improve your trading by joining a proprietary trading firm.
Here's how to really stand out:
Bring along your trading journal and charts during the interview. Then use them to explain the thought process of your trades.
If you've done any backtests, bring the results along to show that you're working hard to find an edge in the markets. That'll impress your interviewers.
But wait.
Passion alone is not enough. Read on to find out what else is required.
3. Grit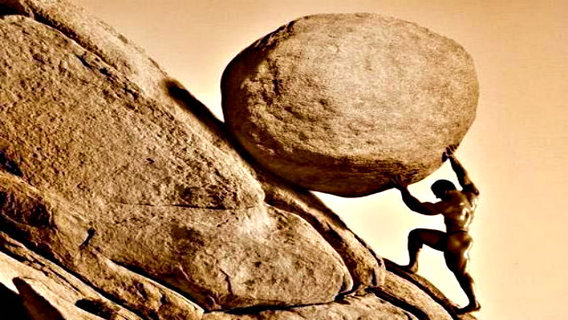 Studies have shown that Grit plays an important factor as well.
But what is grit?
Grit is the ability to keep moving forward even when the shit hits the fence.
Most traders will quit and stay away from trading after blowing up a few trading accounts.
But those with grit will constantly reflect their actions and seek to better themselves, which separates the winners from the losers.
I've spent close to 4 years learning how to trade, yet I wasn't profitable.
It was depressing as I knew so much about trading but can't turn my knowledge into profits.
Many times I felt that profitable trading is an illusion but never once did I considered giving up. There was always something in me that pushed me forward, and today I realized it is none other than grit.
I want you to read this book, Pit Bull: Lessons from Wall Street's Champion Day Trader.
It's about a trader called Martin Schwartz, who lost money for 9 straight years before making millions consistently.
4. Minimal liabilities during your learning curve
Here's the kicker:
You want to have little liabilities and commitment as possible.
Best you are not married with kids, have no outstanding loans or any form of financial liabilities.
Why?
Most proprietary trading firms operate on the basis of giving traders a basic allowance, and a profit sharing scheme.
Also, trading has a steep learning curve, which can take a trader anywhere from 6 to 18 months to be consistently profitable.
The bottom line is this:
You will be living on a shoestring budget for a period of time, until you are consistently profitable. Thus it makes sense to reduce or have no liabilities at all.
Most proprietary trading firms will look for this factor, and this explains why they tend to hire fresh graduates below 30 years old.
Here's another thing you should know..
5. Quick with numbers is a good thing
The trading approach of most proprietary trading firms is scalping, arbitraging or day trading.
Because you're trading on lower time frames, you need to think fast and act fast.
So how do they test you?
Math.
During the interviews, they'd ask you mathematical questions (48 * 67), or solve some statistical puzzle (Monty Hall).
Some take it one step further by requiring you to pass a math test before granting an interview.
You can consider doing mathematical speed test a few weeks prior to your interview to improve your mental calculation.
Commonly asked interview questions
I've been through a number of interviews at different proprietary trading firms.
And here are some commonly asked questions:
Why do you want to be a trader?
Can you survive without a fixed pay?
How long are you willing to give yourself?
What trading books have you read?
What is your trading approach to the markets?
How much money do you want to make?
Where did you learn how to trade?
Solve the Monty Hall problem
What is 32 * 32?
Next…
I'll share with you a powerful tip on how to land a job in proprietary trading.
Tell a story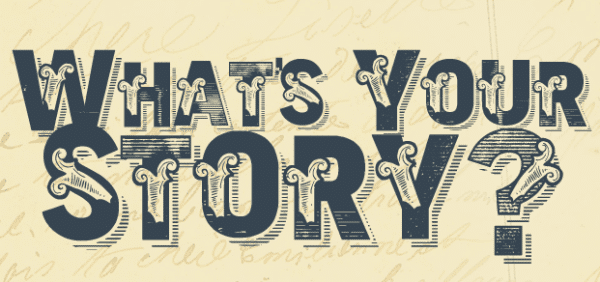 At every interview, I convince them of my passion, grit and minimal liabilities.
How?
I share my story with the interviewer when I'm a child till present.
And the story is as follows.
---
My Early Days
In my early school days, I had no interest in studies and only cared for playing counter-strike.
No surprise I only passed 2 subjects in secondary 3, and my parents had to beg my principal to allow me to proceed onto secondary 4.
During secondary 4 it was my O levels and miraculously I scored 20 points which allowed me to study at a local polytechnic.
I went to Temasek Polytechnic to study info-communications, which was one of the few choices available to me, given my mediocre results.
At this point, I was still playing computer games and simply did the bare minimum that's required.
After 3 years, I graduated with a diploma in info-communications.
Army Days
I was required to serve the army after graduation.
I was enlisted into the 1st Commando Battalion, and it was possibly the best thing that happens to me when I was 19 years old.
From being mediocre all my life to being placed in an elite fighting unit, I was in for a culture shock.
Birds of a feather flock together. It's true while you're in the army, especially in 1st Commando Battalion.
Core values like courage disciplined and fighting spirit are drilled into each and every one of us.
Slowly but surely.
It changed my outlook on life and to strive for nothing but the best.
An incident I will never forget was the '72km Road March'.
We were expected to complete it within 24 hours. It was painful, to say the least, after the 30km mark, every step forward is like stepping on shattered glass.
We were marching in the middle of the night, yet I wasn't even sleepy. Because every step I walked sent a sharp jolt of pain towards my nervous system.
Giving up wasn't an option, and the only way forward is to make every step count.
After what seemed like forever.
I made it to the finishing point and was definitely an experience I will never forget.
This incident then taught me one thing, there is no such thing as impossible, only not done yet.
During this period, I started reading books on trading and investments. This sparked my interest in the financial markets and helped me decide which course to enroll for my degree.
University Days
After serving in the army, I took up a degree in banking & finance with the University of London.
Since being a Commando taught me to strive for nothing but the best, I was determined to attain a 1st Class Honors, no matter what it takes.
In my 1st year of studies, a Forex broker came to my school and organized a trading competition. Me being curious, I took part in it and not surprisingly busted my trading account within 2 days.
This was the official start towards my trading endeavor and made me certain I wanted a career in proprietary trading.
My biggest take was this:
1. If I did poorly for my exams, I would ask myself what went wrong?
2. If I did well in my exams, I would ask myself how can I improve further?
With these 2 powerful questions, I attained my First Class Honors and was set on being a proprietary trader no matter what it took.
This tells the interviewer I am determined to succeed, being a nobody in school to attaining my 1st Class Honors. Also, it shows my passion for trading since I am trading my own account.
---
I love to share a story because it engages the interviewers and give them an idea of my character. If you want to learn more, you can read this post here.
So, there you go!
That's how to get a job at a prop trading firm.
Now, as years go by…
The retail and proprietary trading industries changed on top of a global pandemic.
It changed so that more and more regular people started getting into trading, and proprietary trading became more and more accessible to them.
Good news, right?
You don't need to pay for desk fees, and you don't need to commute to a physical office because everything's done online.
But is it still the same as sending a job application, going into interviews, and having a trading desk in a physical office?
Of course not.
You either have to:
Pay upfront to be trained by traders before you become a proprietary trader
Trade your account first and prove to other prop firms that you're a profitable trader already and that you're fit to be a proprietary trader
Nonetheless…
It still sounds fair, right?
So the question now is…
"How do I get into proprietary trading without leaving the comfort of my own home?"
There are a TON of options.
But one that stands out is…
Psyquation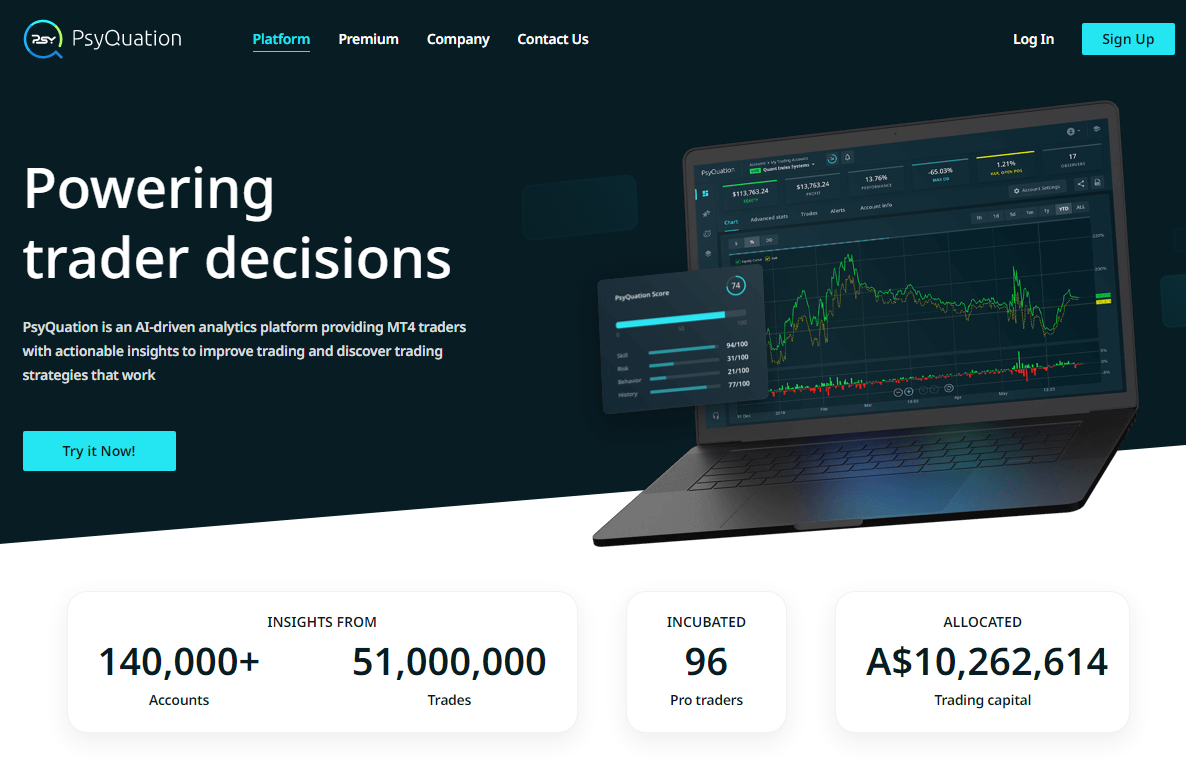 Psyquation is similar to other free trade journaling tools like Myfxbook and Fxblue.
The difference is that you can be qualified to manage the company's funds through their "Axi Select" program
The criteria are simple:
Trade for at least two months
Have a live account of at least 1,000 AUD
Have a "psyquation score" of at least 65 on their platform
It means that your track record is your ticket to being a proprietary trader.
No training fees, desk fees, or anything.
Pretty cool, right?
Of course, the downside is that you have to trade their preferred broker, limiting the markets you trade.
If you think 2 months is too long for you or don't have 1,000 AUD, then the next proprietary trading firm could be for you.
FTMO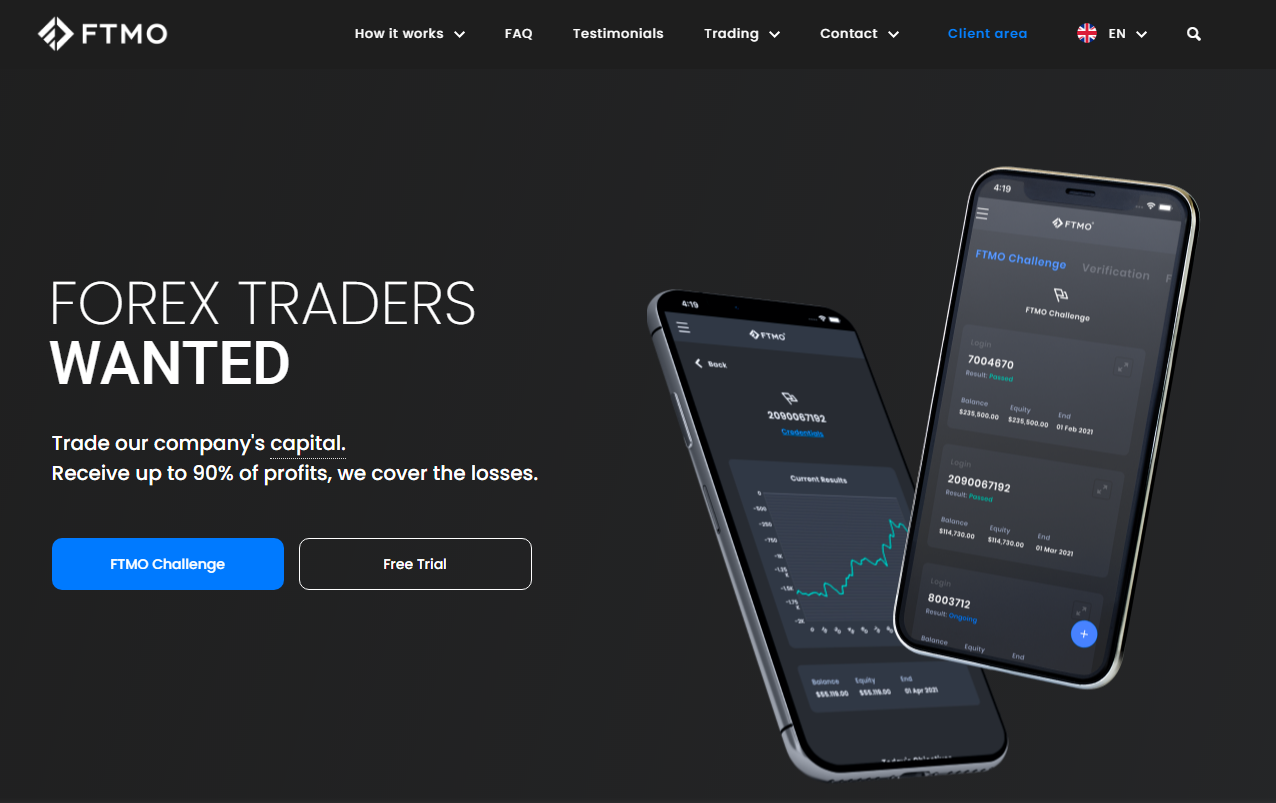 I'm sure you've heard of them somewhere.
But compared to Psyquation, their criteria are tighter:
Trade a demo account of $10,000 – $200,000 (yes, not a live account)
Make 10% within 30 days
Don't lose more than 10% of the account or have a maximum daily loss of 5%
The catch, of course, is that you need to pay upfront for the "challenge," but you will be trading a demo account and not a live account.
There you go!
With that said, here are some frequently asked questions I've received…
Frequently asked questions
#1: How did you go about looking for these prop trading companies? Were there internships or did you just dive straight in?
I pretty much looked at job portals every day for new job opportunities and vacancies.
I also searched Google for prop trading companies with physical addresses in Singapore and went down to their doors to personally submit my resume to them.
#2: Did you have to pay monthly desk fees at the prop firm or did they cover all expenses for you?
Yes, you'll have to pay monthly desk fees at the prop firms.
During the probation period, they'll cover those fees for you. But after the probation period when you're trading for them full-time, you're expected to cover your own desk fees.
#3: How competitive is it inside the firm? Will you be asked to leave if you struggle to make profit consistently?
Yes, proprietary trading is extremely competitive. But it's not between you and your colleagues. It's pretty much competition between you and yourself, to become the best trader that you can be.
You'll want to be a consistently profitable trader so that you can take a piece of the paycheck every quarter or every month.
Generally, most firms would likely give you some leeway, maybe 3 to 6 months to become profitable. If after 6 months or a year and you're still bleeding every month, you'll most likely be asked to leave. But of course, it's still up to the firms' discretion.
Conclusion
And there you have it!
My step-by-step guide on how I got a job as a proprietary trader.
I hope this helps!