I was in university when one day, a Forex broker came to my school and organized a trading competition.
I took part in it immediately thinking…
"How difficult can it be?"
Well, I blew up my account in 2 days.
And that's the official start to my trading journey.
Now despite the setback, trading opened a new world of possibilities for me.
I realized…
You can make an unlimited amount of money because there's no "ceiling" to stop you.
Your trading skill is yours to keep forever (no one can take it away from you).
You'll never be replaced by someone "better and cheaper" than you.
You've got no office politics to get involved with.
You don't have a boss (or anyone) to answer to.
So…
When I had this revelation, I was running around like a headless chicken, excited by the future that lies ahead of me.
So, what did I do?
I studied everything I could find on trading.
Stuff like candlestick patterns, chart patterns, trading indicators, RSI, MACD, etc.
Sure, I was gaining knowledge like mad.
However…
My trading results got worst.
Here's why…
If you've studied Technical Analysis, you know the information can be conflicting.
For example:
The market is in an uptrend but the candlestick pattern shows a Bearish Engulfing Pattern.
So which signal do you follow?
Or how about…
There's a bullish RSI divergence, but the MACD indicator shows overbought.
So, do you buy or sell?
Clearly, there's lots of conflicting information out there.
And that's not all…
Because I was also lured by the "holy grail" syndrome — always trying to find new trading strategies.
I've tried harmonic trading, price action trading, indicators, and what not.
But here's trading truth I came to realise:
By trying different trading strategies, it leads me to have an inconsistent set of actions.
And if my actions are inconsistent, how can I get consistent results?
Now at this point…
I was frustrated, confused, and mildly depressed.
But I'm not willing to give up just yet.
I wanted to know…
What are professional traders doing, that I'm not?
So, I went down the rabbit hole to look for answers.
And by sheer luck…
My answers came when I was hired as a trader at a proprietary trading firm.
Here's what I discovered…
Every single profitable trader I came across has this ONE thing…
…an edge.
Now you're probably wondering:
"What's an edge?"
Well, an edge is something that gives you a positive result over a number of trades.
Imagine:
I make a bet with you.
If every time I toss a coin and it comes up head, I win $1.
And if it comes up tail, you win $2.
Let me ask…
Over the long run, who will win?
You, of course!
Because you have an edge in the coin toss (your winners are larger than your losers).
And it's the same for trading!
You must have an edge in the markets if you want to be a profitable trader.
So when I had this "AHA" moment…
I went ALL IN to find my edge in the markets.
I studied research papers, winning traders, books, and backtest reports.
And using that information, I developed trading strategies that hopefully could give me an edge in the markets.
Did it work out?
Well, here's the results of one strategy I developed…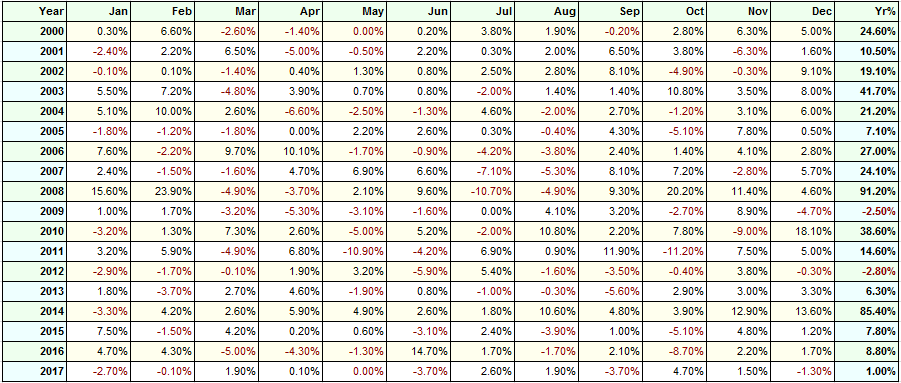 And do you know how I feel?
Vindicated.
Because all my effort has NOT been wasted.
Now:
I know I have an edge in the markets.
I've got a skill no one can take away from.
I've got something which could feed me and my family for the rest of our lives.
The best part?
I don't have to rely on anyone or anything (no bosses, colleagues, politics, etc.).
It's all on ME now.
I'm in control.
Now, you're probably thinking:
"But how can a retail trader like me find an edge and beat the markets?"
Well, that's what I'll cover later.
But first, let me explain why traders don't have an edge in the markets.
This is important, so please read carefully…
Trading Truth #1: Why Fundamental Analysis will cause you to fail
Here's a true story…
Before I became a trader, I actually attempted to be an investor.
I bought a stock called Blackberry (its symbol back then was RIMM).
Anyway…
The reason I bought the stock was because revenue was strong and earnings were increasing year on year — it's the darling of Wall Street.
It seemed like a no-brainer because the stock is fundamentally strong, and I should buy.
And that's what I did… I bought Blackberry at $75.
Do you know what happen?
Well, the stock starting sliding lower.
From the highs of $80, it trickled to $70…
Then to $60…
Then to $50…
Then to $40…
Suddenly, all hell broke loose and Blackberry collapsed to single digits.
I was puzzled.
Wtf is going on?
And looking back on hindsight, Blackberry was "too slow" to catch up with the Smart Phone technology.
Players like Apple and Samsung came in and gobbled up market share, fast.
This led to the demise of Blackberry.
Here's another example…
AMD had negative earnings in 2014, 2015, and 2016,
But, the share price gained 700% within the next 12 months.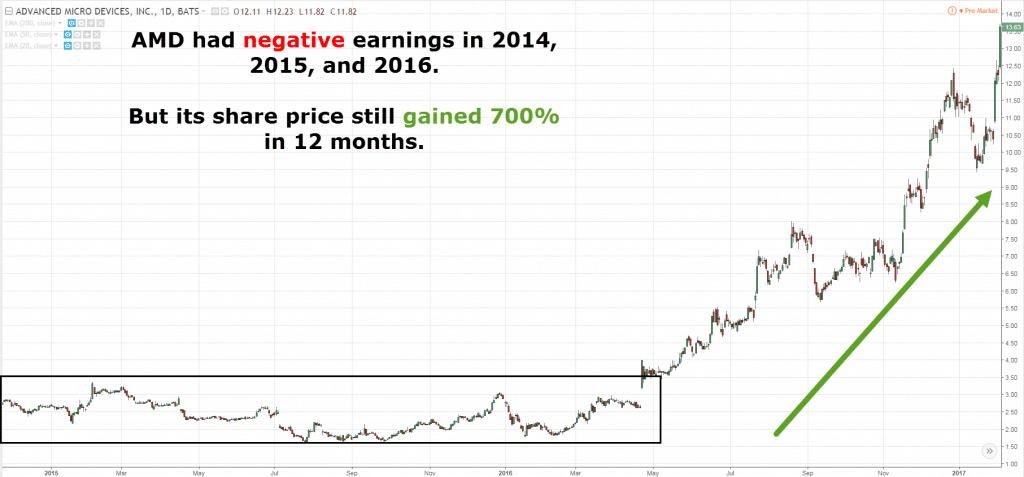 You're probably thinking…
"Wtf?"
So here's the tough trading truth…
The market can go up on bad news and go down on good news.
It's near impossible to trade based on fundamentals, and it sure as hell difficult to find an edge from this approach.
Next…
Trading Truth #2: Technical Analysis works, but it's not what you think…
Unlike Fundamental Analysis, Technical Analysis relies on past prices (like candlestick charts, trading indicators, chart patterns, etc.) to make your trading decisions.
But, the same rule still applies!
If you want to be a profitable trader — you must have an edge in the markets.
So now the question is…
"How do you use Technical Analysis to find an edge in the markets?"
Here's how…
1. Develop a trading strategy based on a set of rules
Perhaps its candlestick patterns, Support & Resistance, and etc. It doesn't matter. What's important is to define your set of rules so you can test it and see if it works.
2. Back test your trading strategy
If you don't have programming knowledge, you have to do this manually.
You've got to scroll back the charts to the earliest date and "pretend" you're trading live.
Then, you'll identify your trading setups and record the results of each one of them.
3. Forward test your trading strategy
The other approach is to forward test your trading strategy.
This means you take your trading strategy and trade it in the live markets. It can be on demo, it doesn't matter.
What matters is to see how your trading strategy performs in real-time.
Now:
What you've just learned is how discretionary traders find success in the markets.
However, there are a few problems with it.
I'll explain…
Why manual back testing is a LIE
Here's the trading truth:
When you're doing manual back testing, you "see" the future prices ahead of time (as you scroll through the charts).
Now, if you know the market is about to move into an uptrend, you'll focus only on long trading setups and ignore the short ones.
This means your back test results are inaccurate as you take trades which are "favorable" for you.
And it's no wonder why your live trading results are worse than your back test results.
Moving on…
Why most traders give up on trading
Now you're probably wondering:
"What about forward testing?"
Well, this is more accurate than back testing as you're testing your strategy in the live markets.
But if you trade on the Daily or Weekly timeframe, it'll take you months or even years to find out whether your strategy works, or not.
And if it doesn't work, you've wasted many months (or even years) of your life.
After one or two failed attempts, most traders would give up on forward testing and claim that trading doesn't work — and it's a scam.
So now the question is:
How do you find an edge in the markets — without wasting time on strategies that don't work?
That's what you'll discover in my next post.
But for now, here's what I'd like to know…
What's the ONE thing that frustrates you the most in trading?
Leave a comment below and share your thoughts with me.