Support and Resistance are one of the most important aspects of technical analysis but often I see traders doing it wrongly.
How to Draw Support and Resistance:
Imagine you have a chart filled with SR like the one below. Do you know which levels to pay attention to?
When you're about to start, how to plot support and resistance lines?
It's filled with nothing but lines and it doesn't seem to make much meaning of the chart at all.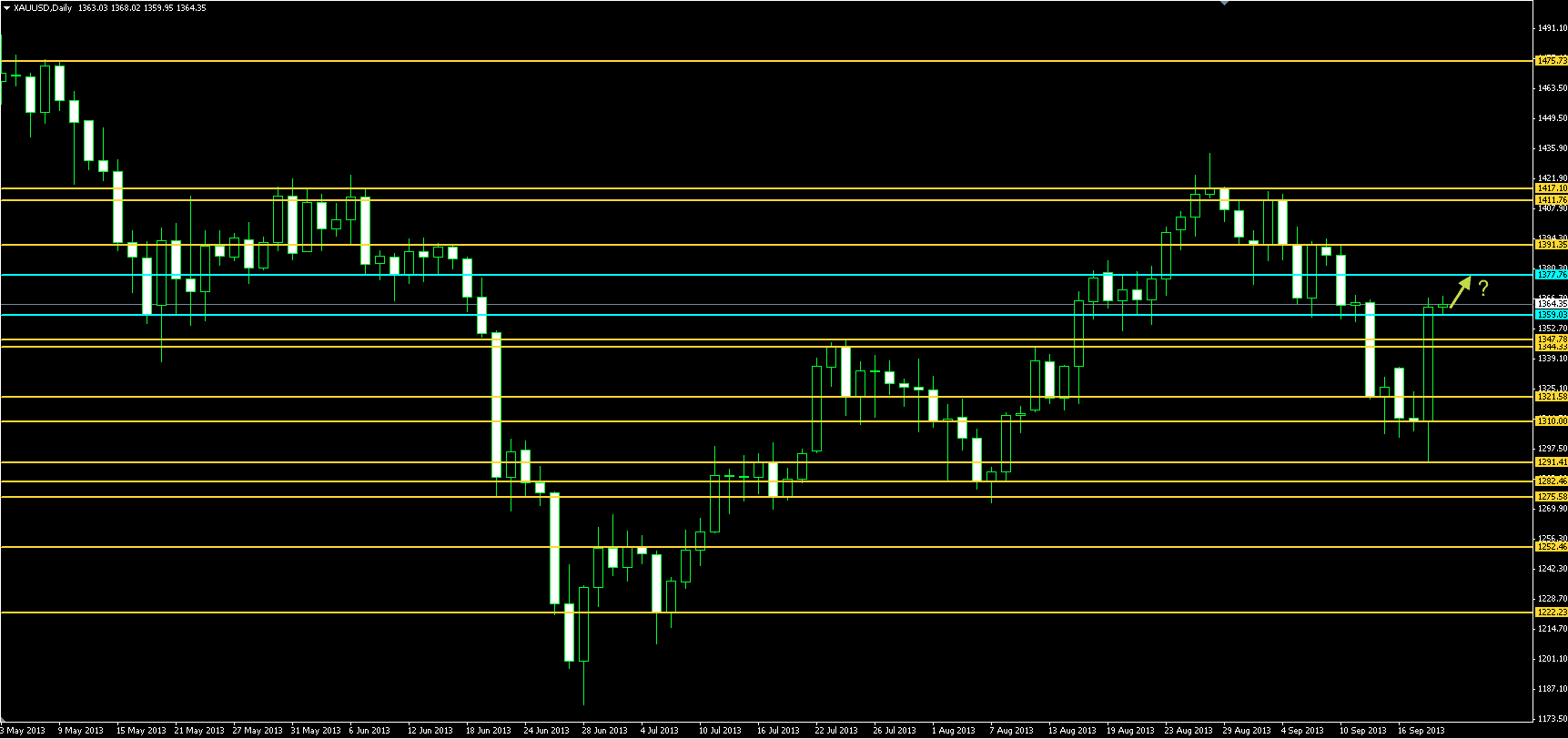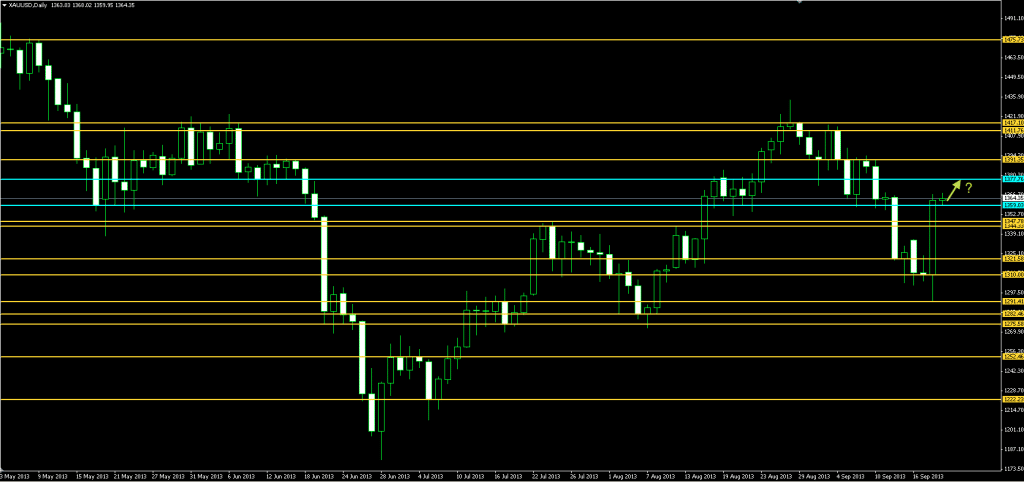 My approach to drawing Support and Resistance uses either 1 line or 2 lines. It is much cleaner and immediately tells you which area of the chart to pay attention to. I use a single line when price respect a level almost to the pip and i use 2 lines when price bounces off an area.
I highlight only the key Support and Resistance of a chart meaning the obvious swing highs and lows. The intermediate SR i will not draw any lines so as to maintain my focus on the key areas. Besides, with enough screen time you can easily identify those intermediate Support and Resistance without any lines.
Examples of how you should draw your Support and Resistance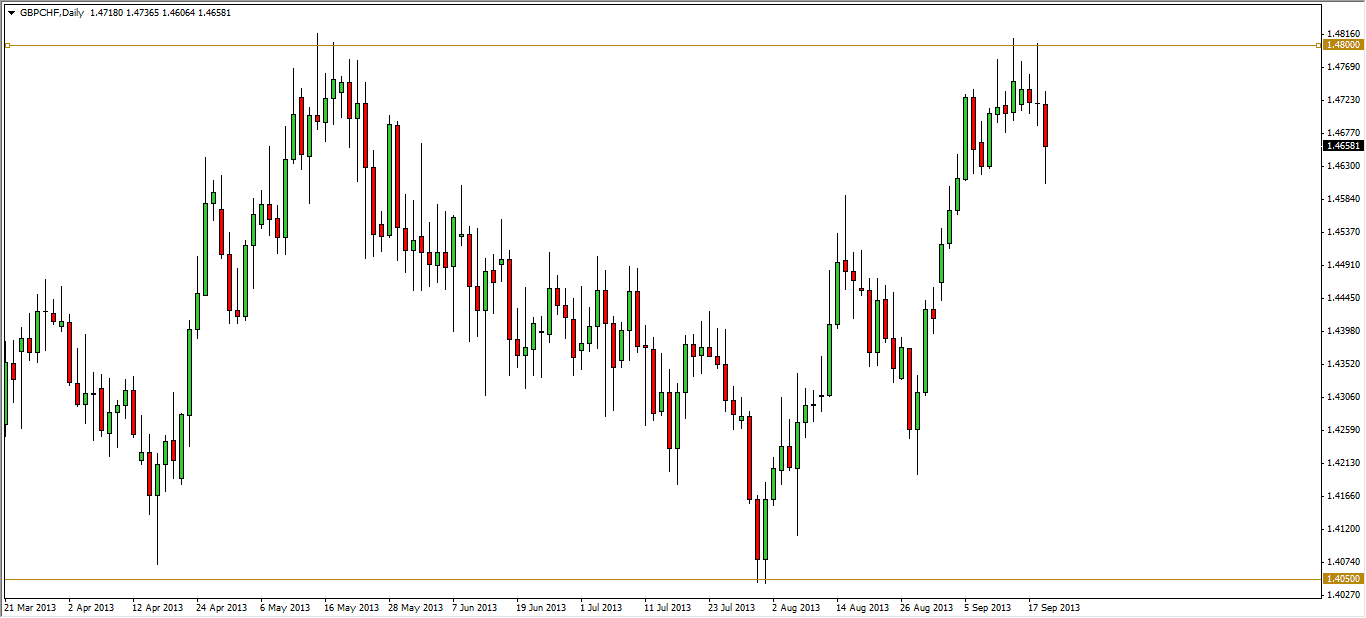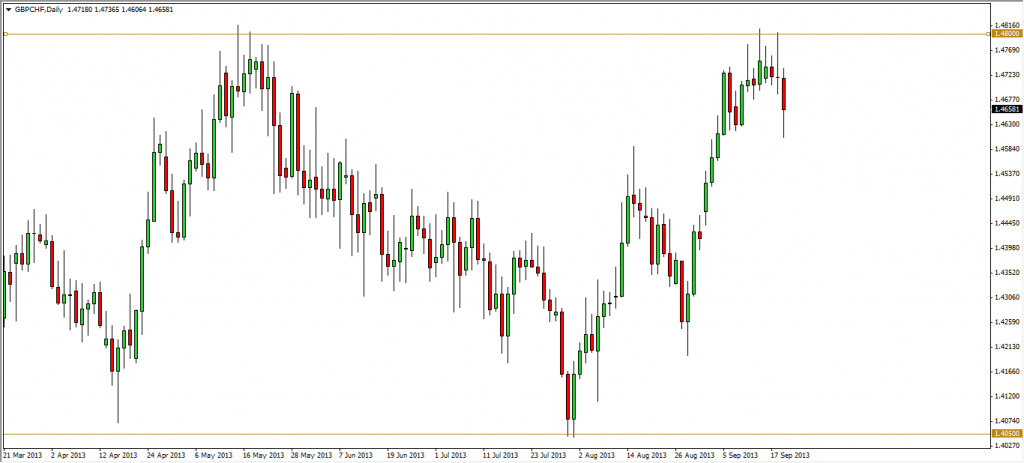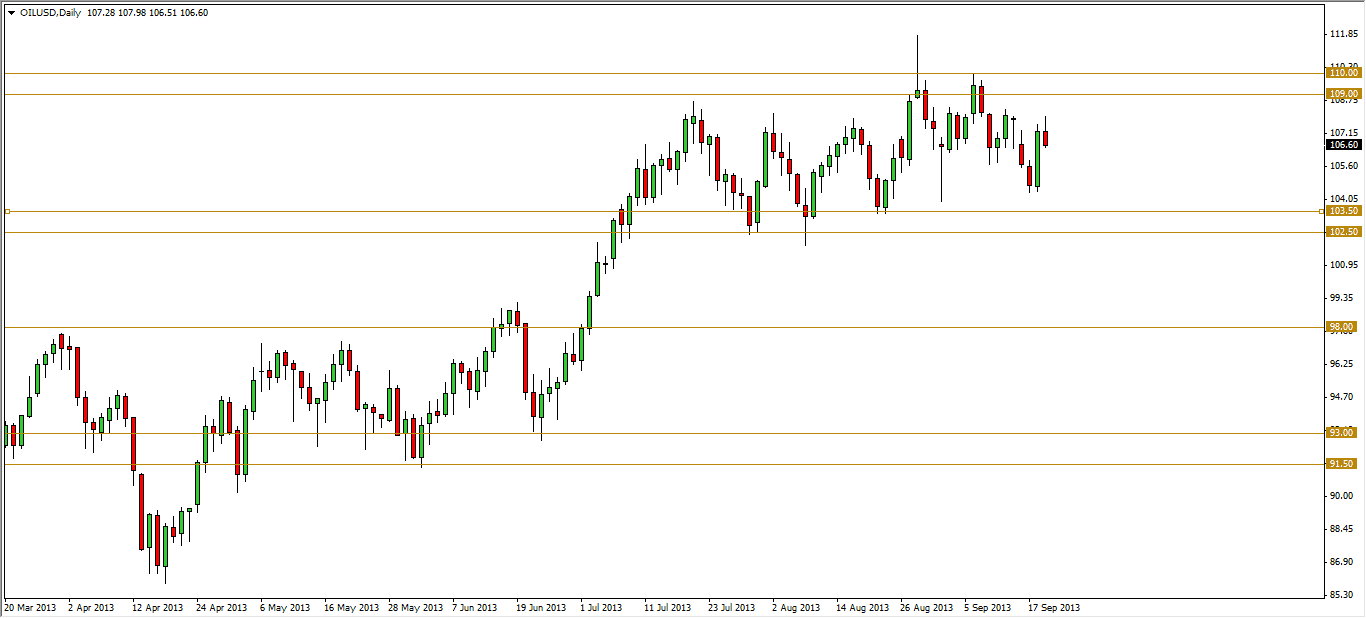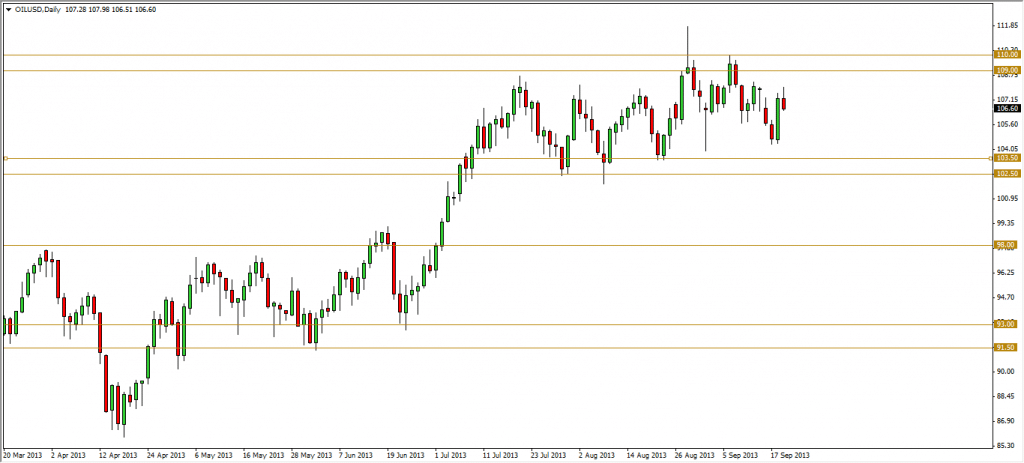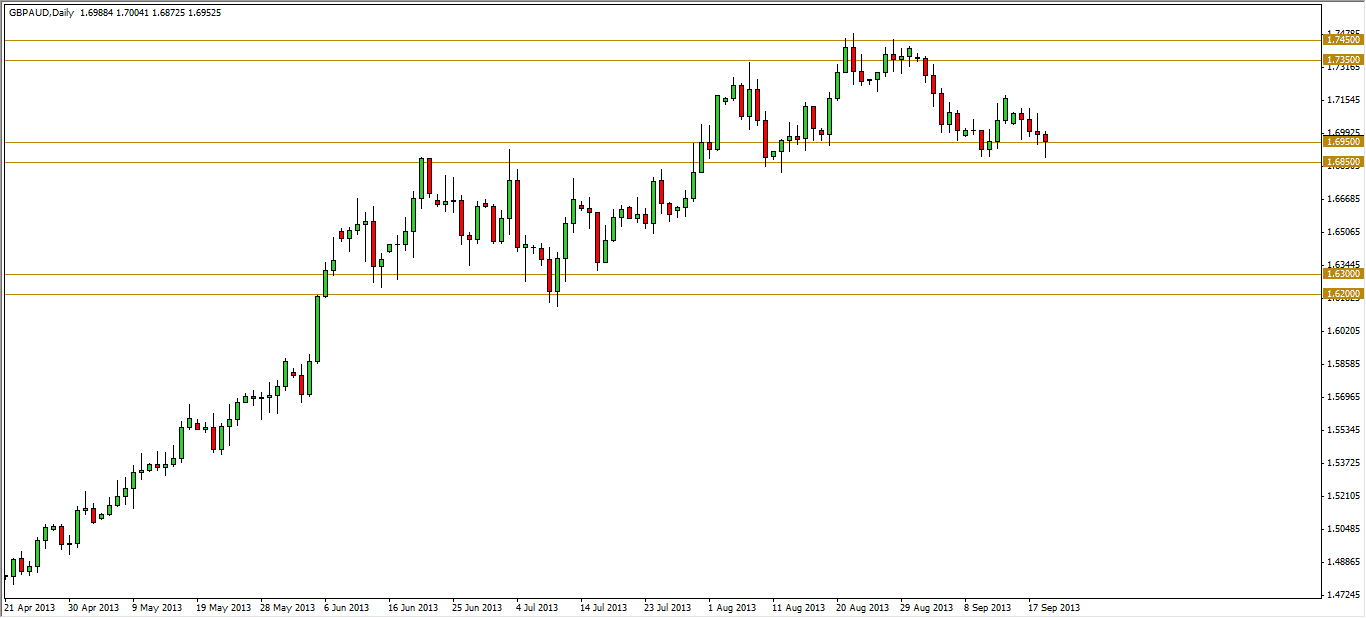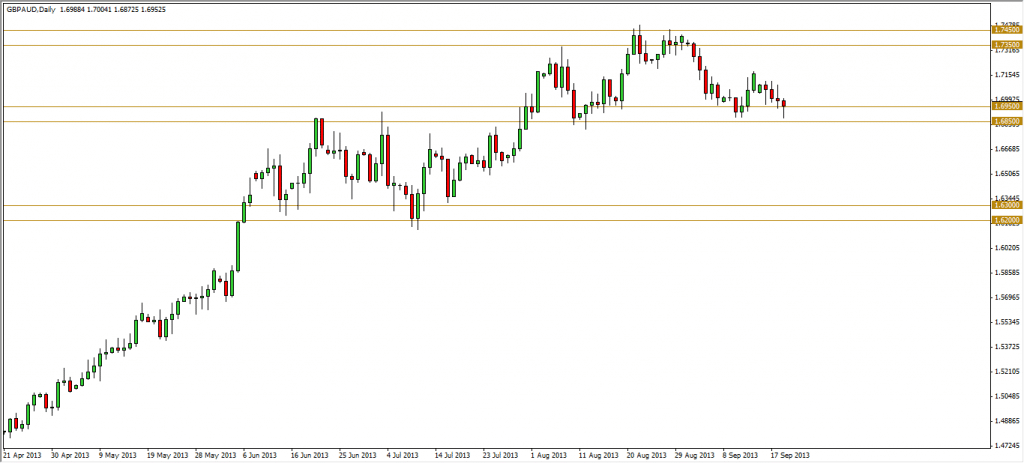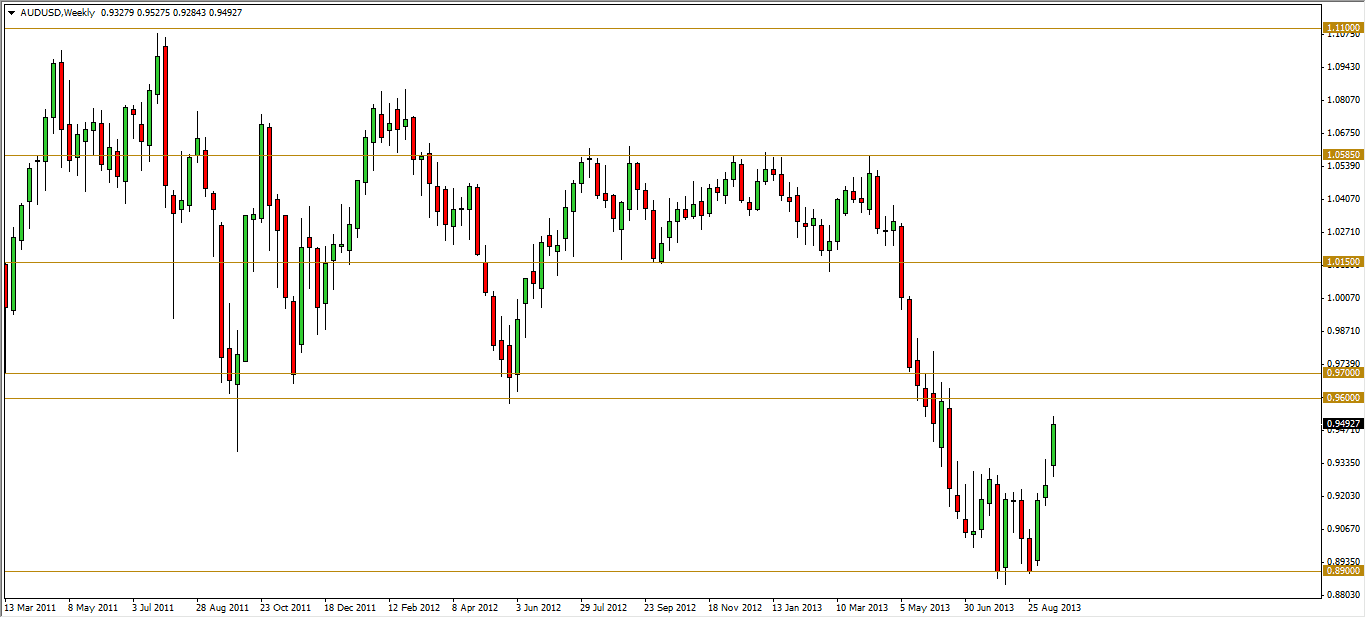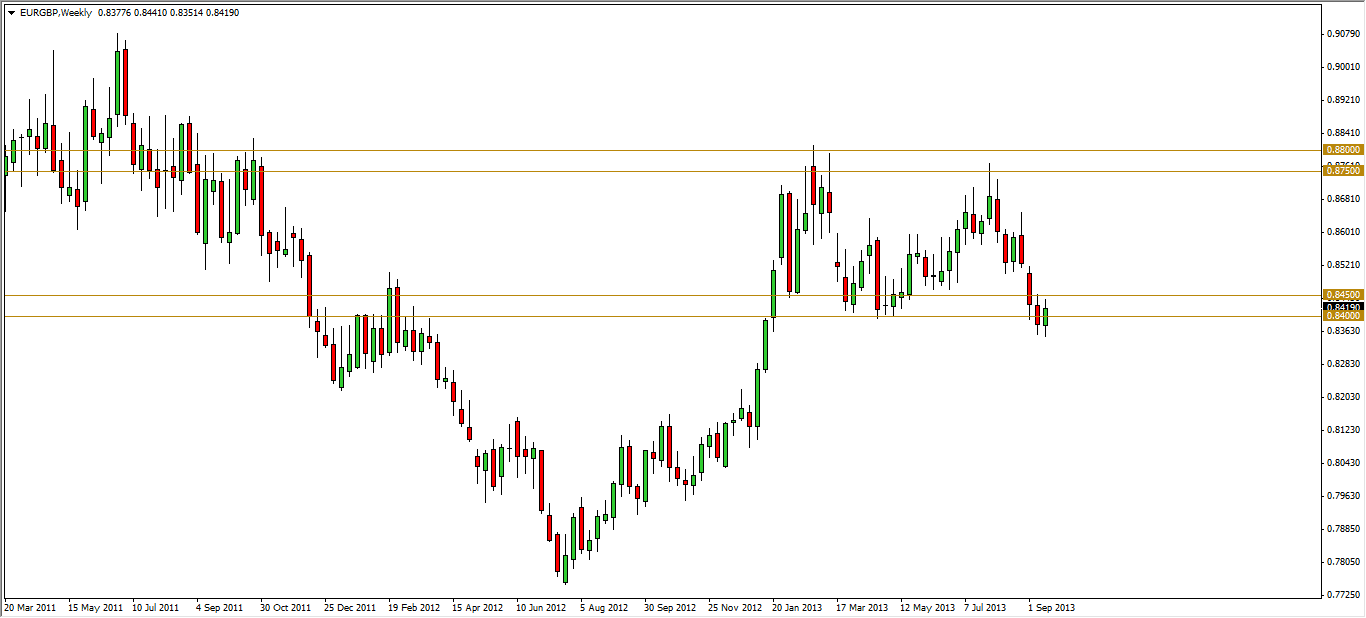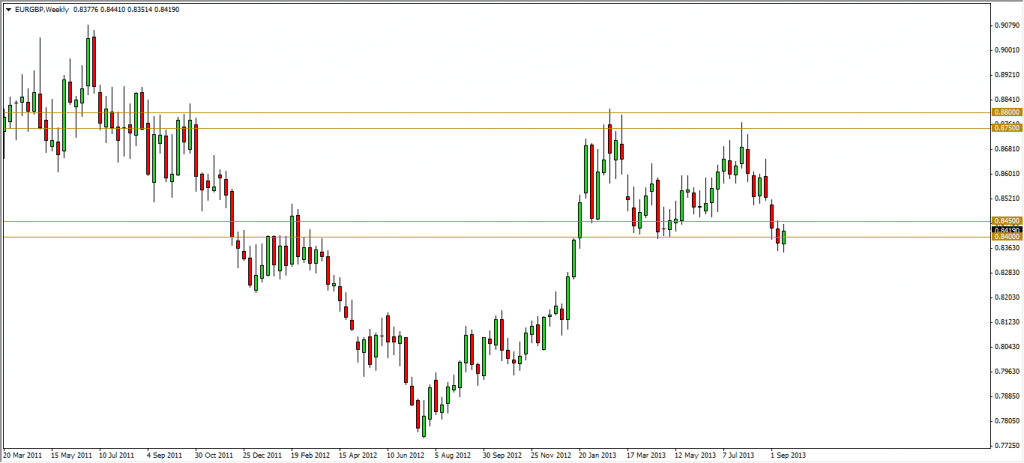 Also notice how Support and Resistance bounces off at key levels like 00 and the 50? You should definitely pay attention to them as well.
If you're one of those traders who's charts are filled with indicators and lines, please consider my approach to drawing Support & Resistance. This way it is much cleaner and you are able to focus on the key areas of the chart.
But once you learn how to draw support and resistance like a pro…
How do you trade it?
Sure, I've shown you some cherry-picked charts in this guide that teaches you how to draw support and resistance lines.
But how does it translate to real-time market data?
Don't worry.
Because as a bonus I'll share with you not only how to draw support and resistance like a pro.
But also how to trade it like a pro.
Ready?
Then keep reading.
How to trade support & resistance like a pro
In order to trade Support and Resistance like a pro that also translates to trading in the real world…
You must keep in mind of the R.S.M. formula.
These three things stands for:
Reaction
Setup
Management
Now take notes because this is important…
Reaction
Here's the truth:
Drawing support and resistance lines aren't the holy grail.
There will be times when the market will "smell" your support level and then reverses away from it which is called an undershoot: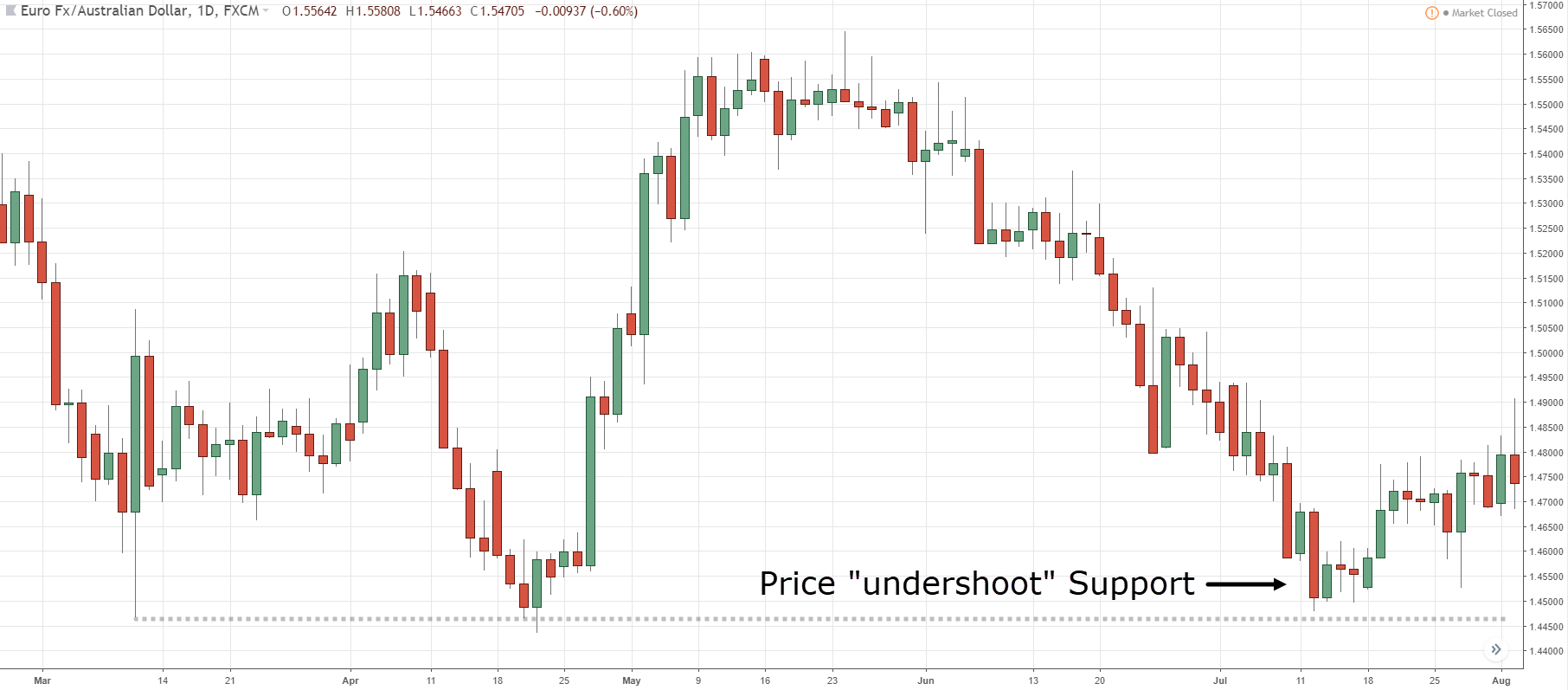 And times where the market will break your support level and then suddenly reverses back which is called an overshoot: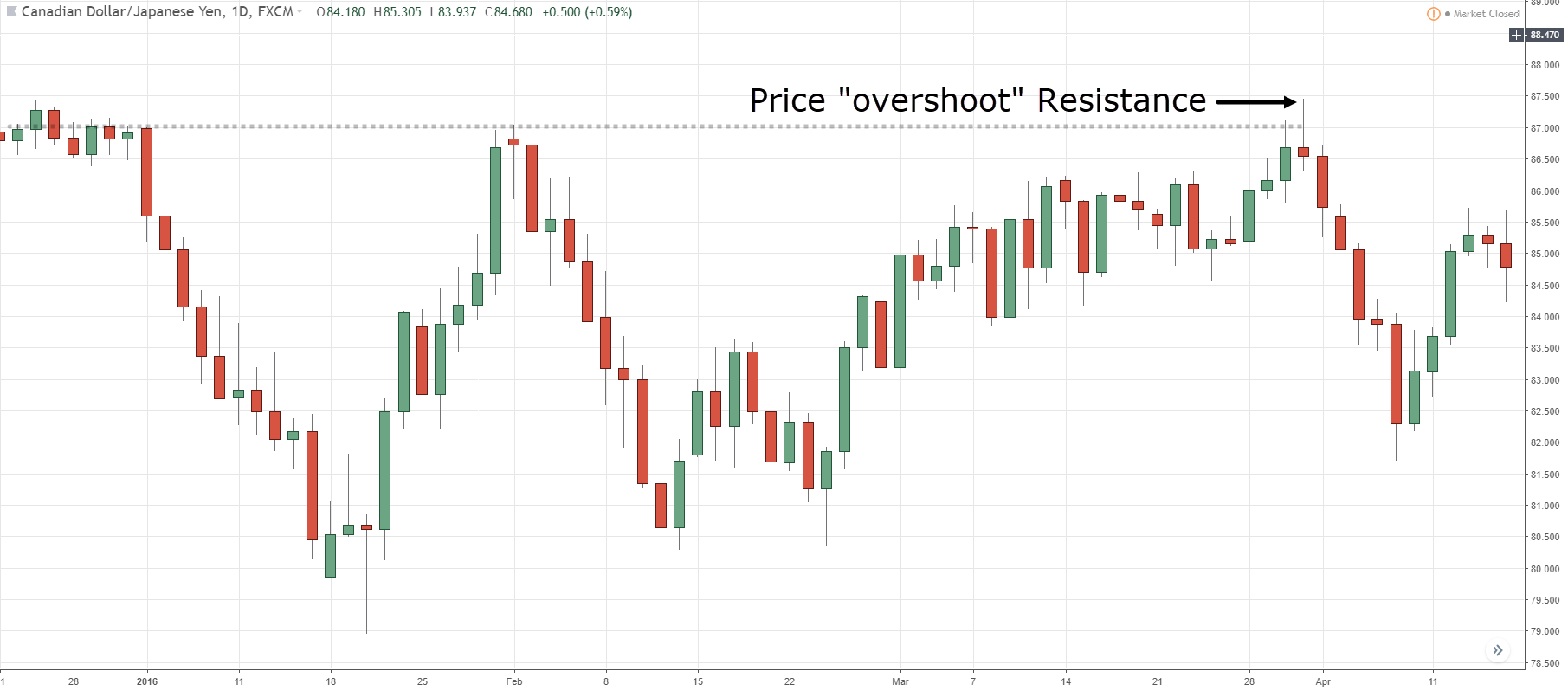 So, what's the solution to this?
It's simple my friend:
Wait for the price to make its move around the area of support & resistance.
This means that when the price has touched your support or resistance level.
Don't place a trade immediately.
No.
Wait for the price to "play its hand" around the key area of support or resistance first, then make your move to enter the trade.
Because remember…
Your lines on the chart don't get to dictate where the markets go, it's the price itself.
So, see if the price "recognizes" that level first before you do anything!
Now, assuming you're not in the trade yet and you see an undershoot: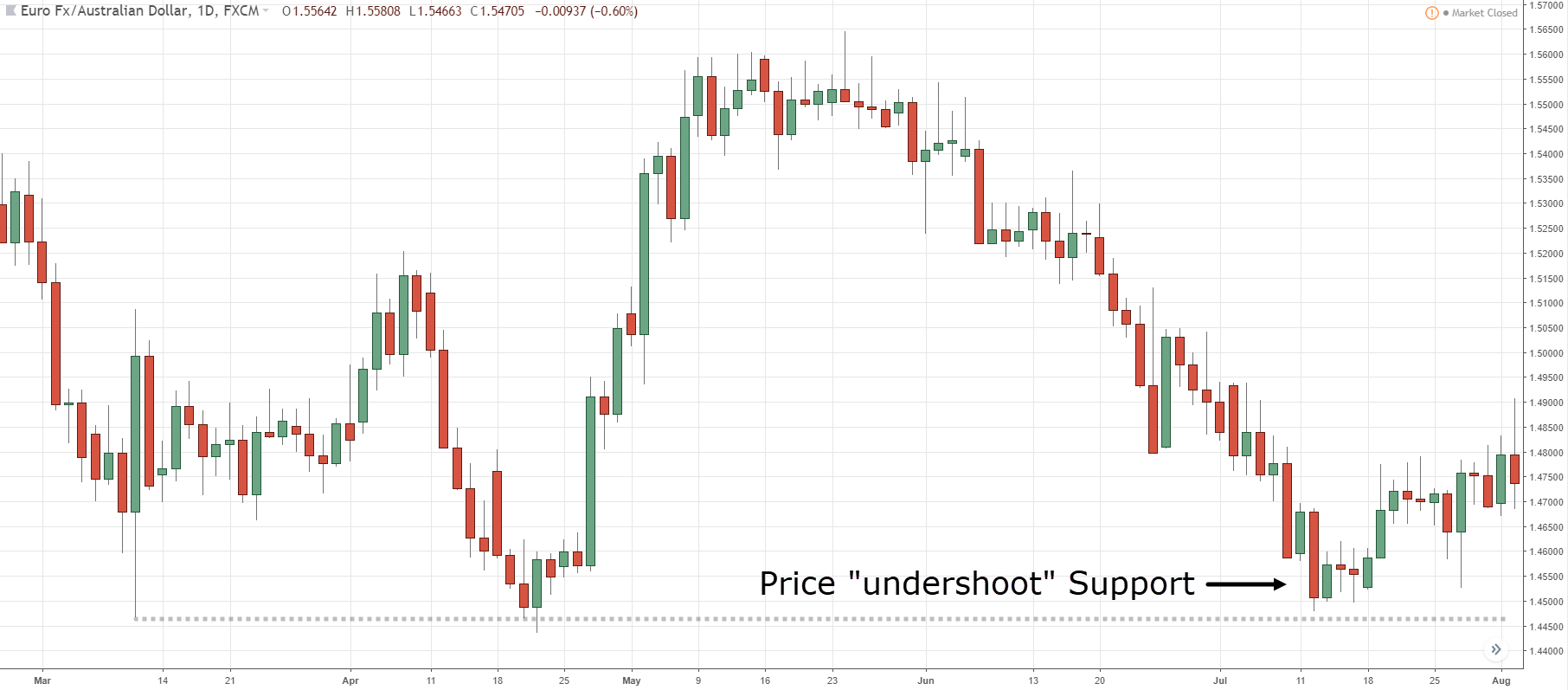 Ignore the trade.
You'd rather enter close to the resistance area: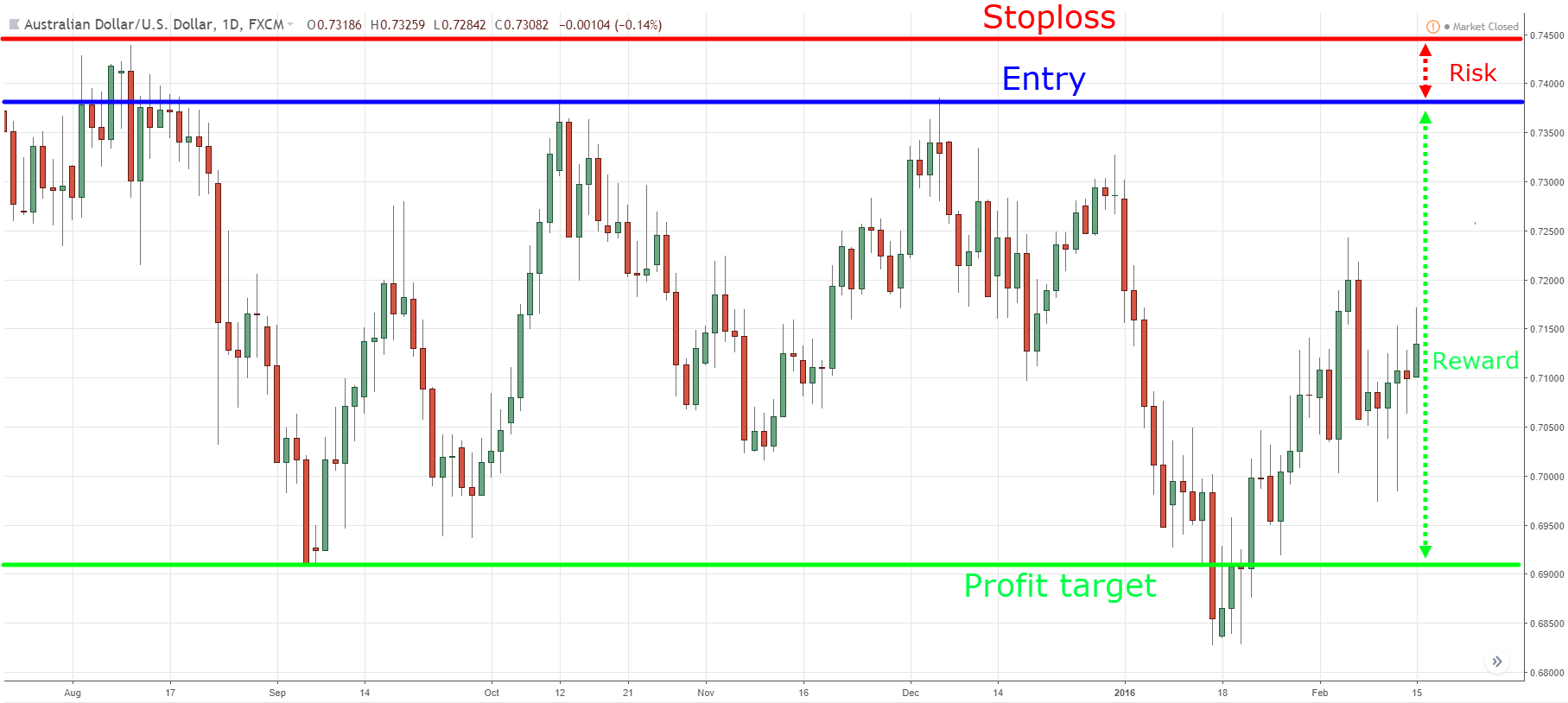 Then enter late in the middle of the range and have a crappy risk-to-reward ratio: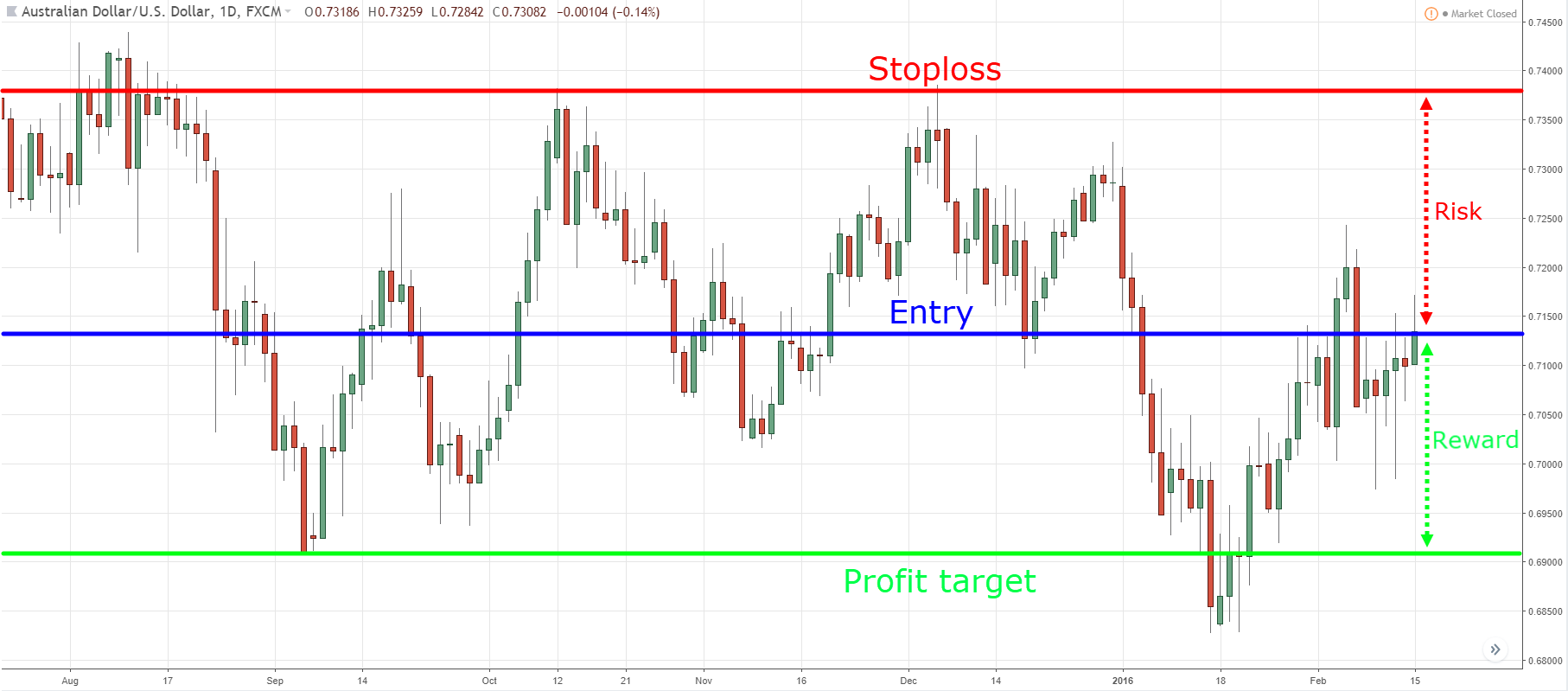 Makes sense?
But what if price overshoots your resistance drawing and makes a false break?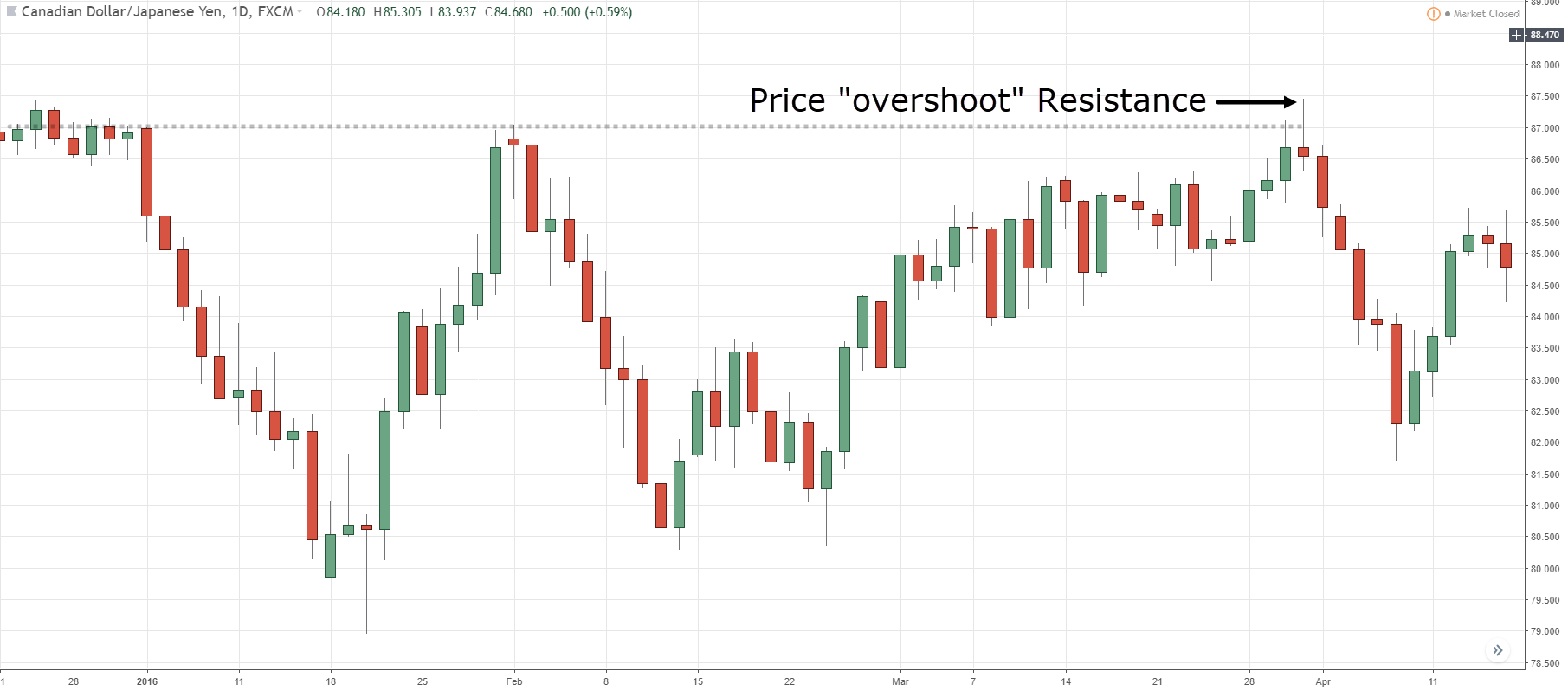 And what if the price forms a "buildup" at the area of resistance?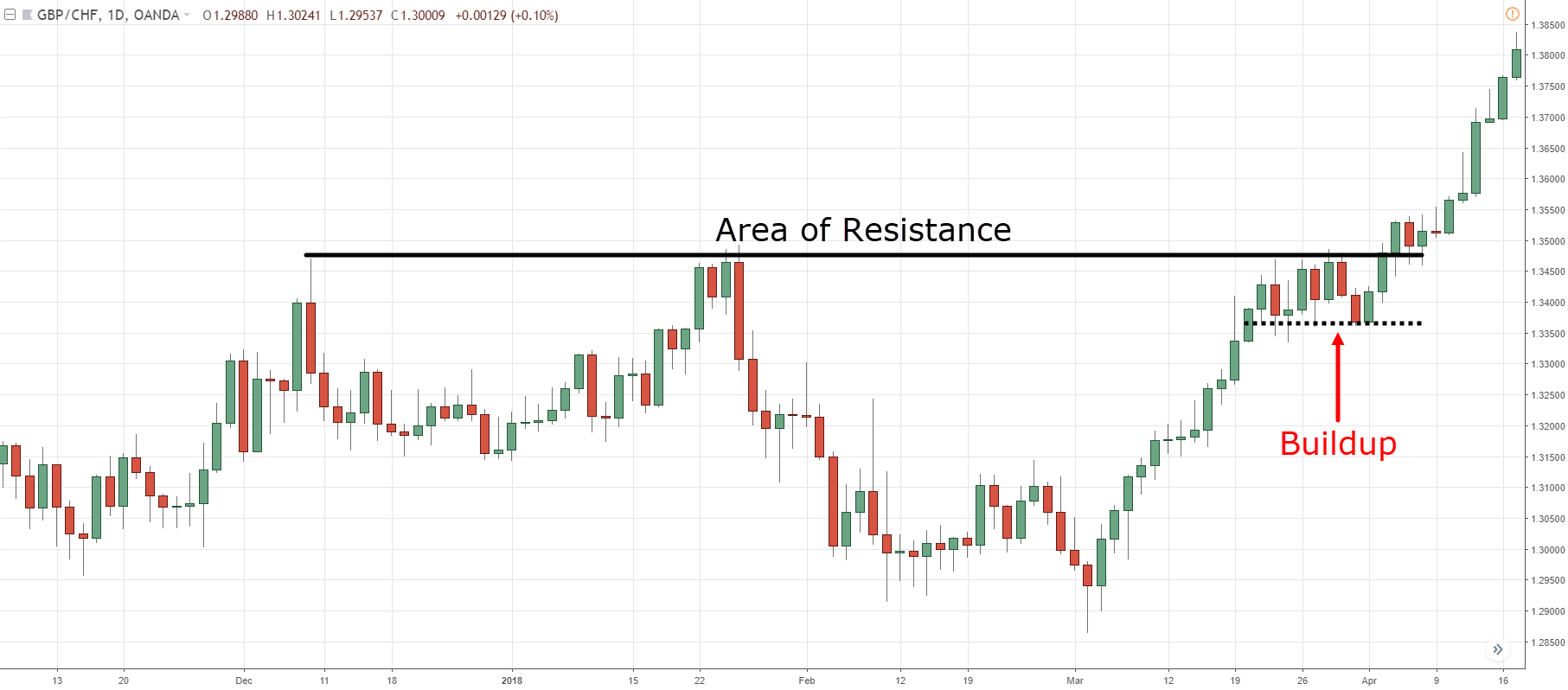 How will you deal with the market's reaction to that level?
Now that my friend opens a lot of opportunities.
Let me show you what I mean…
Setup
In the last section, I taught you that the market can react to areas where you have started drawing support and resistance lines in three different ways:
Undershoot
Overshoot (false breakout)
Buildup
I taught you that undershoots should be avoided, but how about false breaks and buildups?
False breakout
These kinds of setups always put you at an advantage because oftentimes you would be entering right at confirmation of support or resistance.
Plus, you have a clear picture of the market's reaction that the level you are looking at, is valid.
How do you enter this?
Simple, once you've marked your levels:
www.tradingwithrayner.com/wp-content/uploads/2016/09/15.-Mark.png
Waited for the price to reach that level: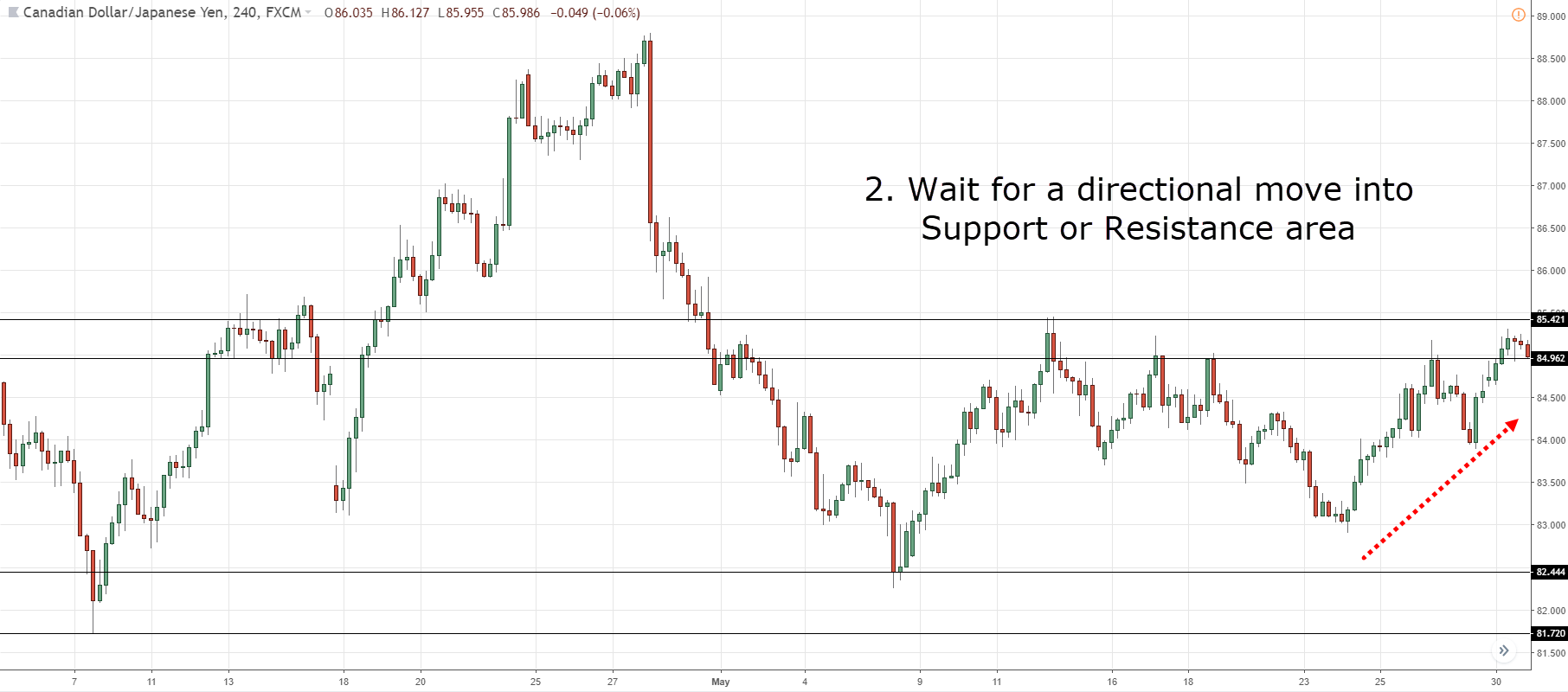 And then the price reacted to the level by closing below the area of resistance: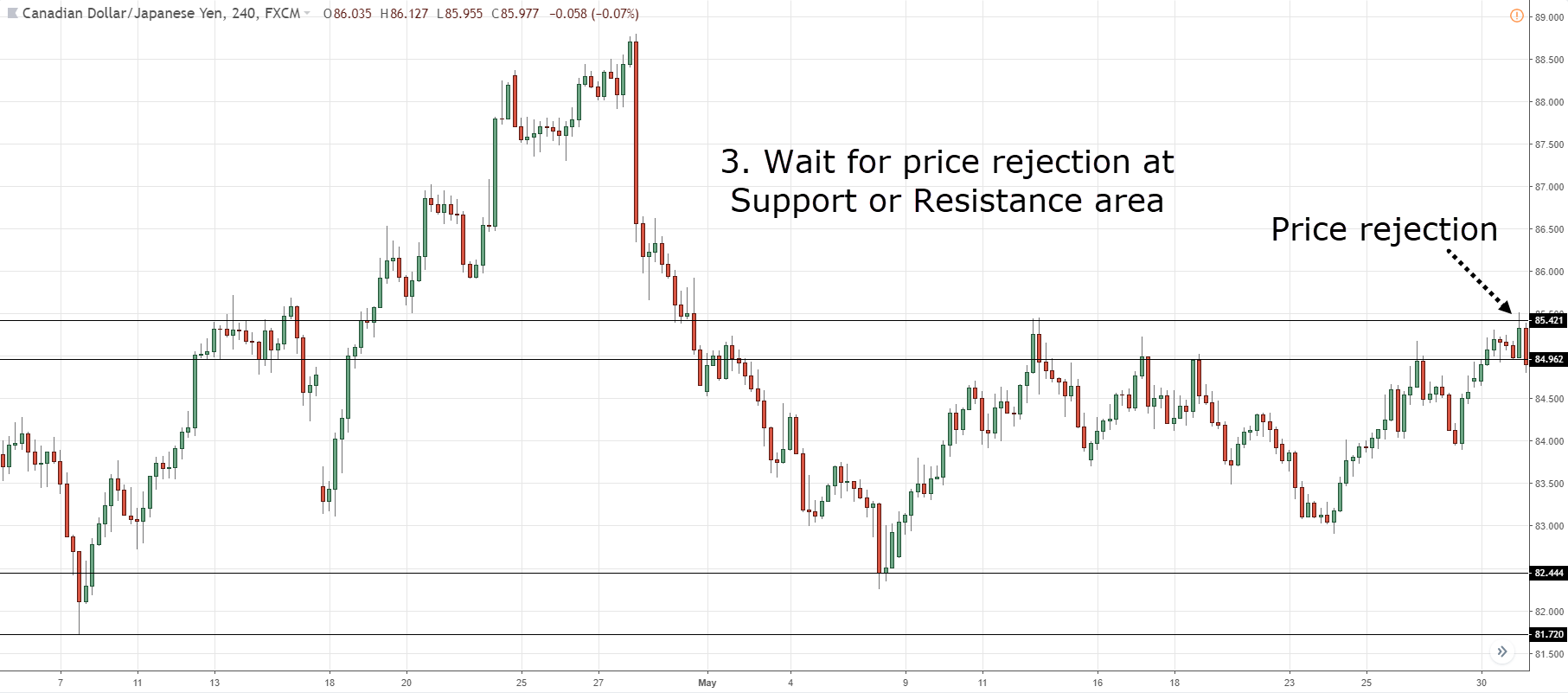 Then place enter at the next candle open, and then set your stop loss below the nearest swing low…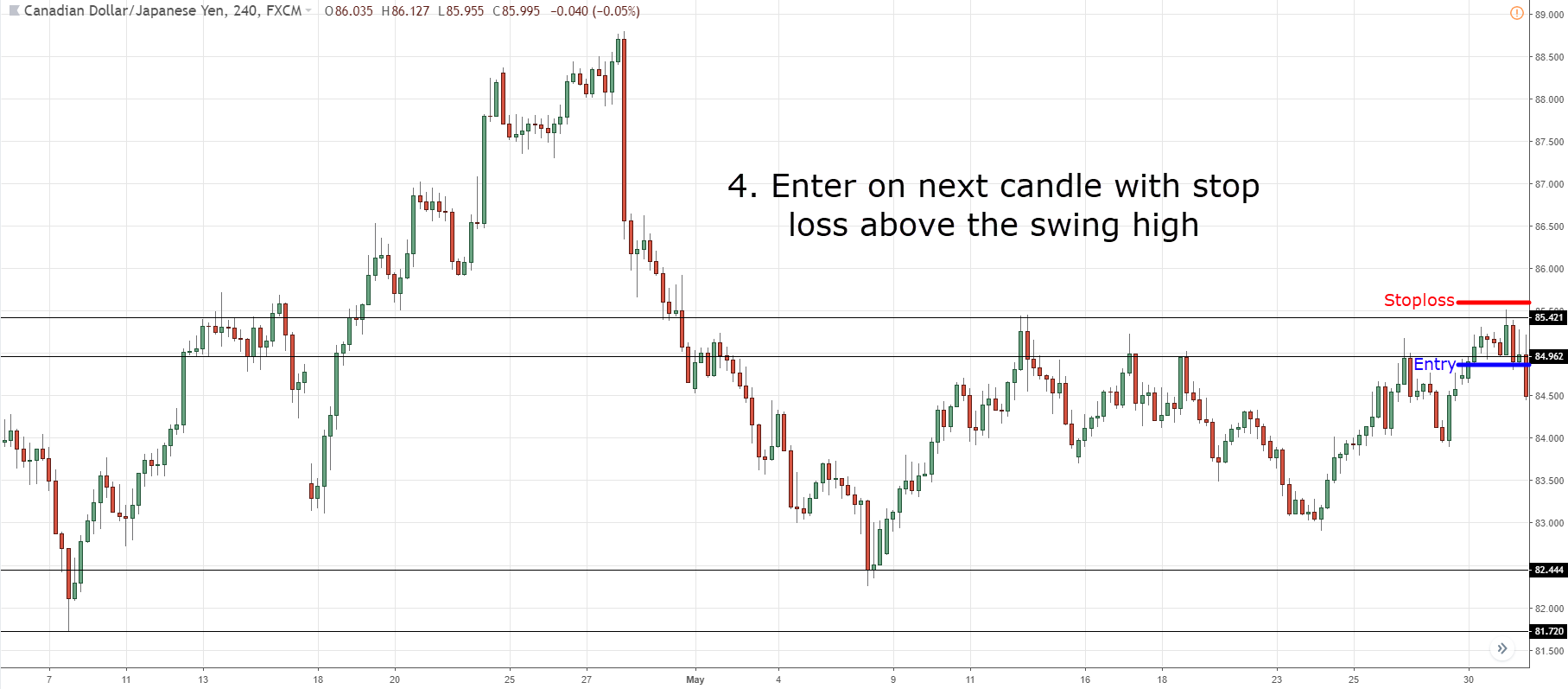 How about the buildup?
Buildup
Compared to false breakouts which is a reversal setup…
A Buildup is a trend continuation setup instead!
It means that if the price makes a buildup below resistance, then you want to be trading in the direction of that breakout.
Here's what I mean: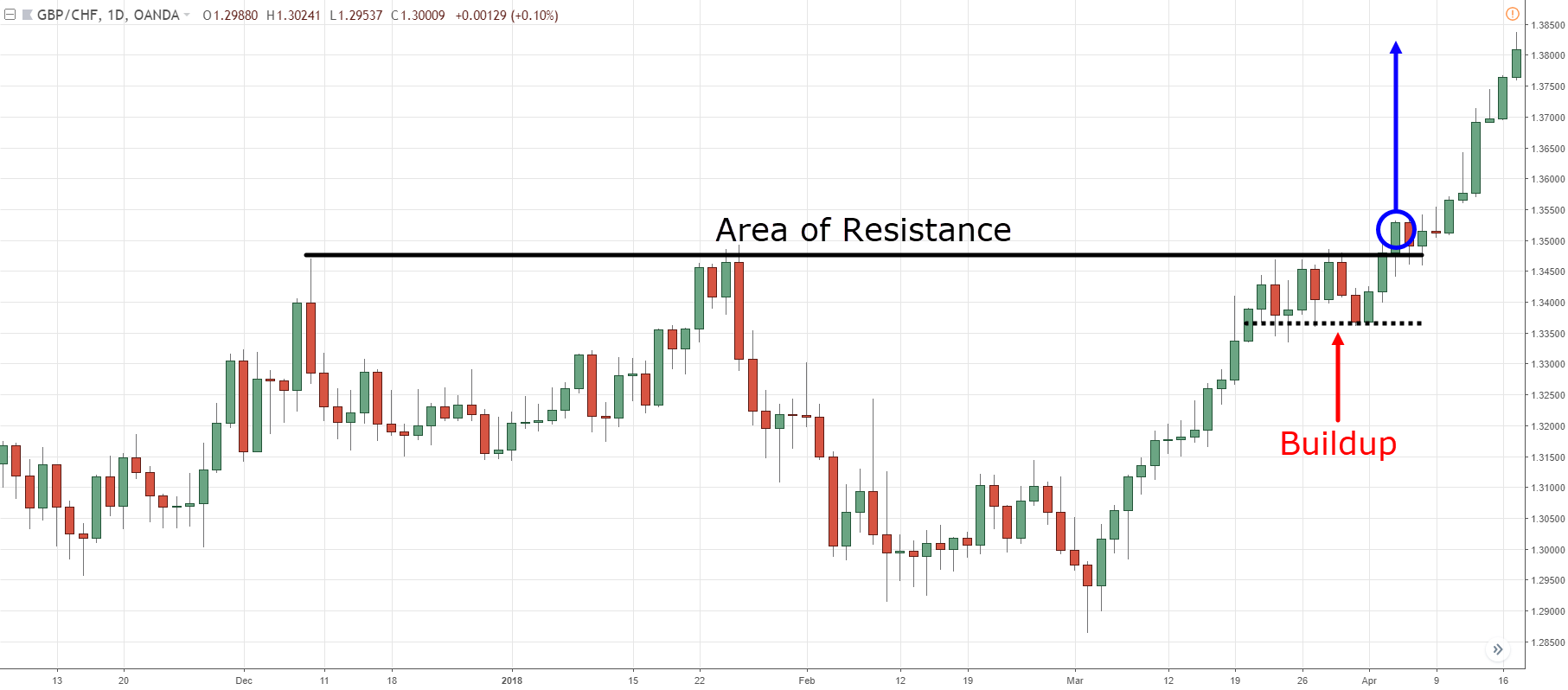 Again, where should your entries and stop loss be?
Just wait for the candle to close above the area of resistance, and then enter the next candle open.
But this time, instead of putting your stoploss below the nearest support, you just now need to place it below the buildup: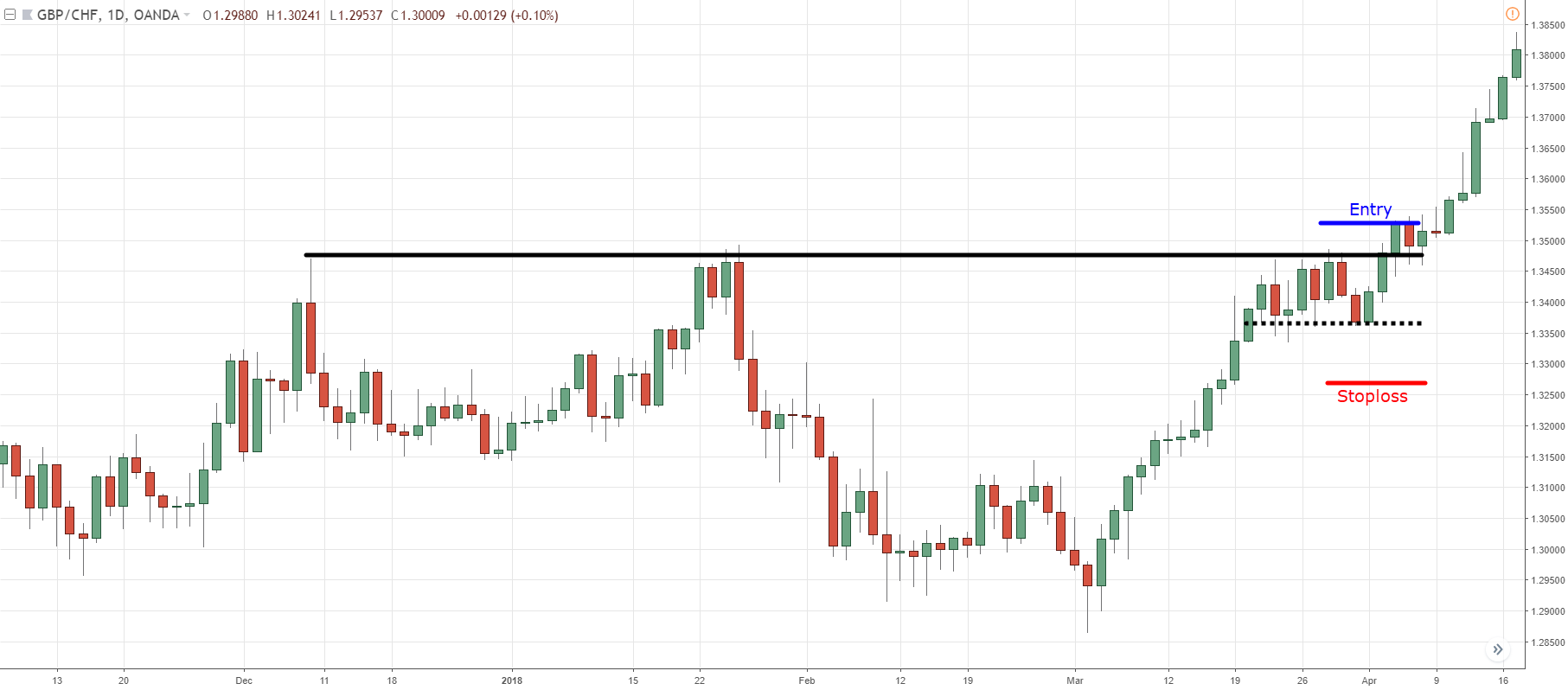 Sounds good?
Now, the last one in this formula is management.
Because as you know, entering a trade is only the beginning.
So, how will you manage your trade depending on which setup you use?
Let me show you…
Management
Recall…
A buildup is a trend continuation setup.
And when there is a valid trend, what do you do?
You trail your stop loss, of course!
So, whenever you get into a buildup trend continuation setup…
You can consider trailing your stop loss.
Now, there are literally different ways on how to trail your stop loss to exit your trade such as these: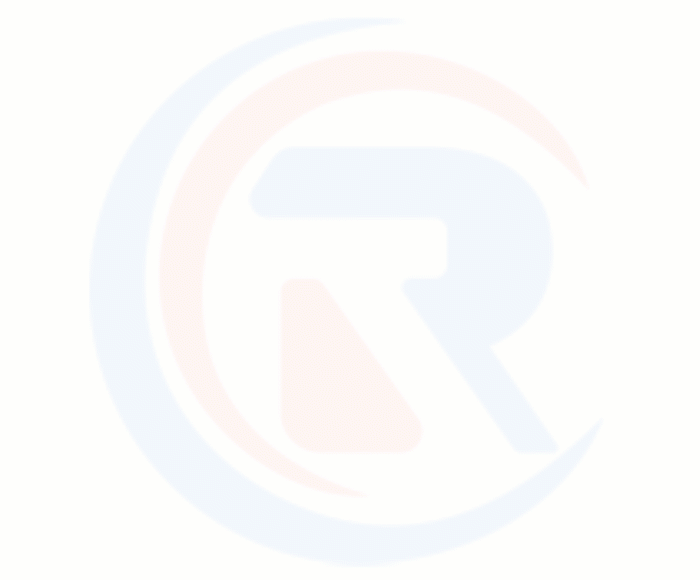 So I highly suggest you take the time to read this article over here:
How to Use Trailing Stop Loss (5 Powerful Techniques That Work)
And finally, the false breakout.
Compared to the buildup, this is a trend reversal trading setup.
What do you do then?
You set your take profit on the nearest support or resistance, of course!
So, if you recall the example shown earlier, you can consider taking profits with these levels: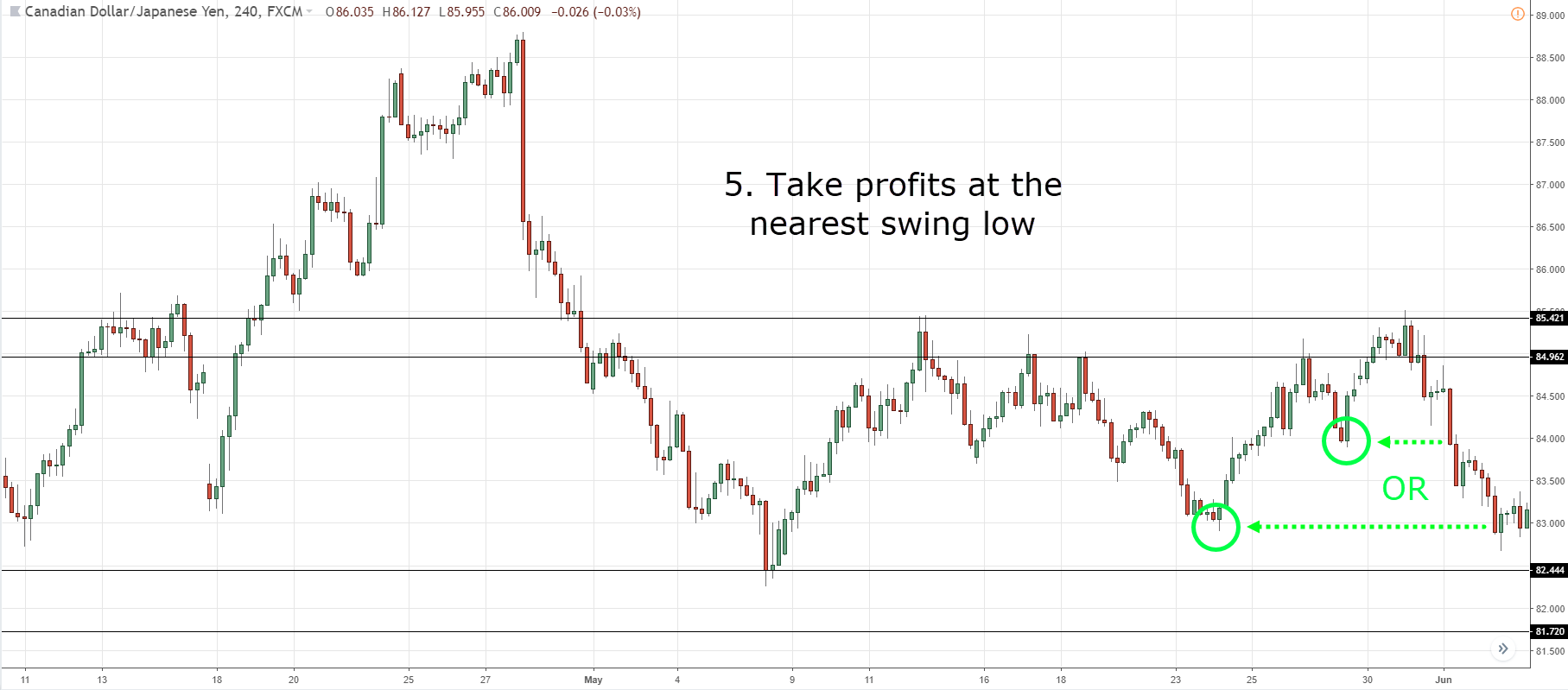 Pretty important stuff, right?
And that's pretty much it!
Not only you've learned how to draw resistance and support lines like a pro.
But also, how to trade it like a pro.
Of course, even professionals have something new to learn so…
How do you draw and trade support and resistance?
Have you been using it for a while?
How did it go?
Let me know in the comments below!