In trading, there is no one size fits all. Some would prefer trading on the shorter time frame and others would prefer trading on the longer time frame. The beautiful thing is that traders can be profitable even on different time frames.
Often in your early years of trading, you would probably wonder which trading time frame is better?
Thus in this post I will share with you the pros and cons of day trading and trend following. This gives you a better understanding of both approaches, and you can decide for yourself which is better for you.
Day Trading VS Trend Following
Day Trading
Usually refers to buying/selling of financial instruments over a short period of time, anywhere from minutes to hours. Day traders profit from the short term price movement and do not hold positions overnight.
Trading frequency
Since day traders only hold trades for a short period of time, you can expect them to have a high frequency of trades. Depending on the aggressiveness of the trader and the number of markets you trade, you can have anywhere from 1 to 20 trades a day.
Consistency
On average you can expect to generate a hundred trades or more each month. If you have an edge in the markets and allow the law of large numbers to work in your favor, you can be profitable on most months. So if you are talking about consistency for day traders, you can look at it from a monthly or quarterly standpoint.
Returns
Traditional investors typically earn an average of 8% a year holding an index fund. However, for a day trader, judging your performance based on percentage returns may be misleading and here is an explanation. Day trading can be a tool to replace your fix paying job as your returns can be consistent over a shorter period of time.
Transaction cost
At a retail level, transaction cost is close to being linear. So the more trades you have the greater your transaction cost. One thing to note is that the transaction cost differs across financial instruments. E.g. in Forex you usually pay the spread only, whereas for stocks you pay both the spread and commission.
Stress level 
There is no doubt that day trading is stressful. And a large part depends on whether you have bills to pay or are already retired with enough money to survive on.
Scalability 
What this means is whether you can apply the same trading strategy as your account size grows. Day trading has limitations as your account gets much larger. You will tend to get bad slippages and may even find yourself moving the markets against you. But for retail traders, this won't be much of a concern yet.
Trend following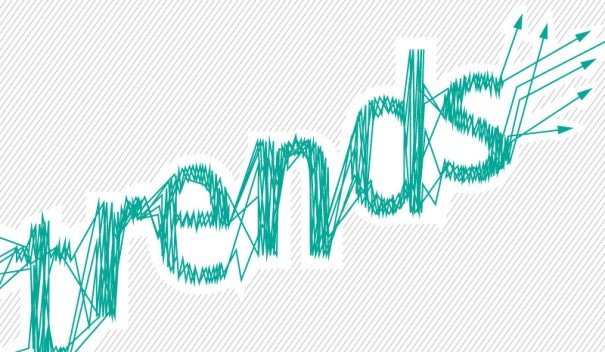 Split up the two words and you will understand what trend following is about. 'Trend' is when price moves in a single direction up or down over a period of time. 'Following' is basically to follow. Thus trend following is simply following the direction of price. Trend followers profit from long-term price movements and hold can hold positions for months at a time. To learn more you can download my free trading course here.
 Trading frequency 
Since trend followers seek to capture the longer term trend, your trading frequency will be lower compared to day traders as you are trading off the higher time frames. Your trading frequency will be a function of a number of markets and time frame you choose.
Personally, I trade mostly off the 4-hour charts and watch about 60 markets, so I do anywhere between 10 to 20 trades a month.
Consistency
Most trend followers trade off the daily charts and have a low frequency of trades. Given the law of large number, it is not logical to expect consistency every month. Instead, you should be looking for consistency on a yearly basis. Trend following learn towards wealth building rather than income generating, so you have to manage your expectations accordingly.
Returns
Trend followers performance are usually judged based on percentage returns. If you want to learn more about their performance you can check out this post by Andreas Clenow. The really great trend followers average anywhere from 15 – 20% a year over the last 20 years.
Transaction cost
Whether you are a retail trader of an institution, transaction cost for trend followers are negligible mainly due to a low frequency of trades.
Stress level
If you read Market Wizards, there is a legendary trend follower called Ed Seykota. He trades off the daily charts and would wait for the markets to close before placing his orders the next day. Most trend followers trade in a similar fashion and usually spend no more than 15 minutes a day trading, or should I say placing orders.
In terms of stress and emotional trauma, trend following is on the opposite end of day trading as you can afford to be away from your monitors most of the time.
Scalability
Trend following is scalable. Hedge funds like MAN AHL manage more than a billion dollars and they adopt a trend following approach.
Conclusion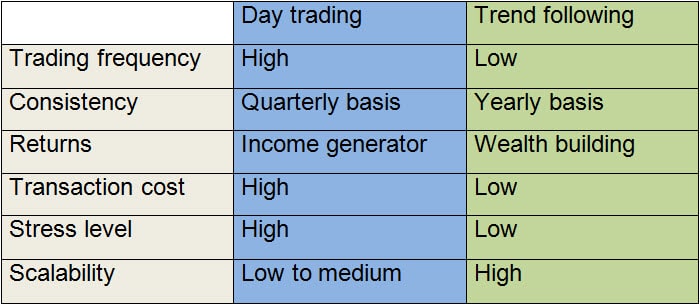 If you are someone who holds a 9 to 6 job then day trading wouldn't make sense for you given your time constraint, and trend following would be more suitable.
Likewise, if have no financial liabilities and enjoy trading the markets actively then day trading would be suitable for you.
Thus the question of which approach better boils down to your time available, lifestyle and expectations. As mentioned earlier in the comparison of  there is no one size fits all in trading.
So,  which trading approach suits you better?
Do you know the 5 Secrets of trend following that makes it profitable over the last 200 years? In my FREE trading course (valued at $48), I reveal to you what are the 5 secrets, and how it can improve your trading immediately.
You can download it here for FREE.