How to Setup TradingView Charts and Customize it
It's now in their default settings.
So how do you customize the charts to a template that you like?
You'll right-click and go to Settings.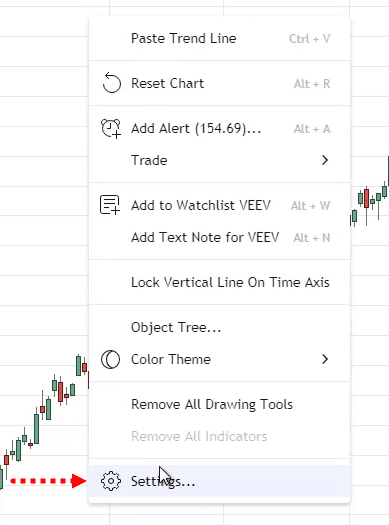 You'll see a box like this: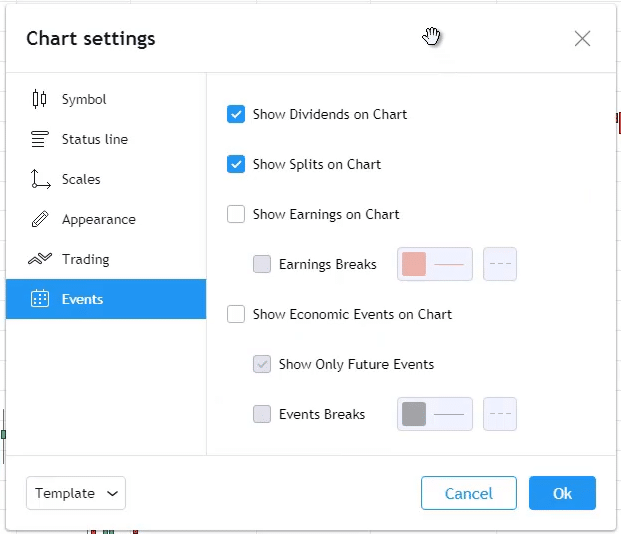 In this Chart Settings, there are a few tabs that you can look at.
So let me walk you through each one.
Symbol tab
For the Symbol tab, it's all about changing the colours of the symbol and the values etc.
Let's say for the Wick: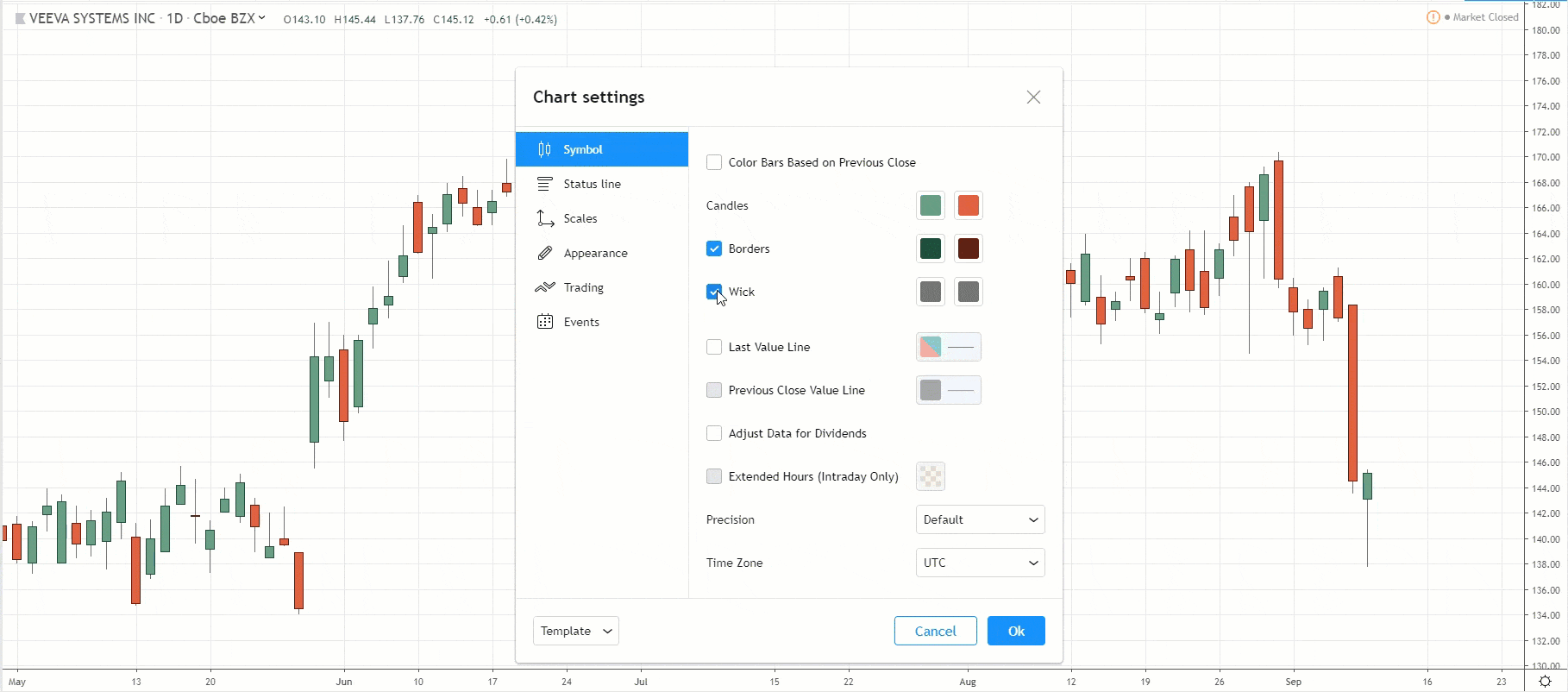 If you're not sure what it's referring to, you can just uncheck and check the box.
This way, you'll know the changes made to the TradingView charts.
For example, when I uncheck the Wick, the wick of the candles went missing.
So you know this is basically adjusting that candlewick and its colour.
When I turn it back on, the wicks are now back again.
Similarly for the borders, if I removed this, the borders of the candle are gone.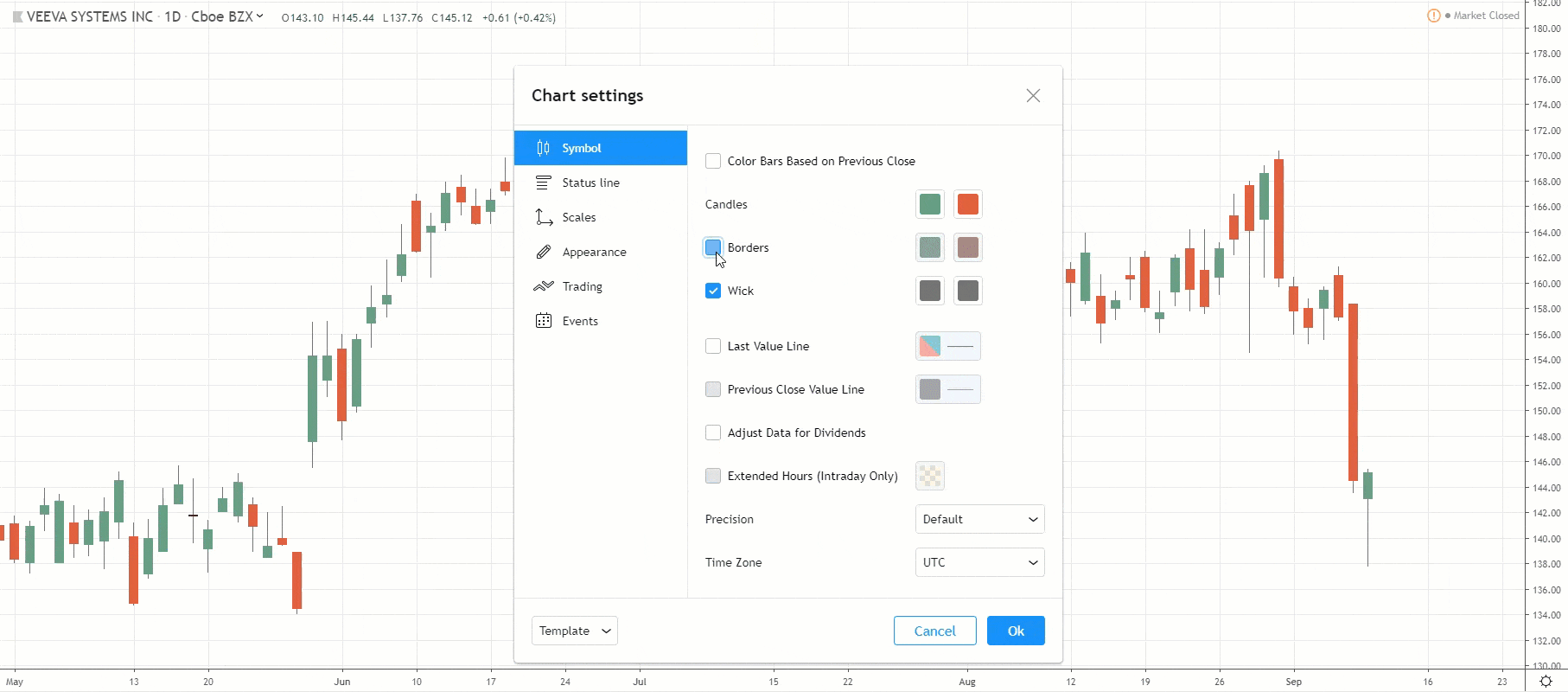 If you want it back, just check it and bring it back on.
So my suggestion is this:
When you're exploring TradingView, just play around with the checkboxes.
Check it and uncheck it to see the portion of the chart that it's referring to.
This is one of the fastest ways to learn TradingView.
And what is this Last Value Line?
Check it and see, and it's this green line over here: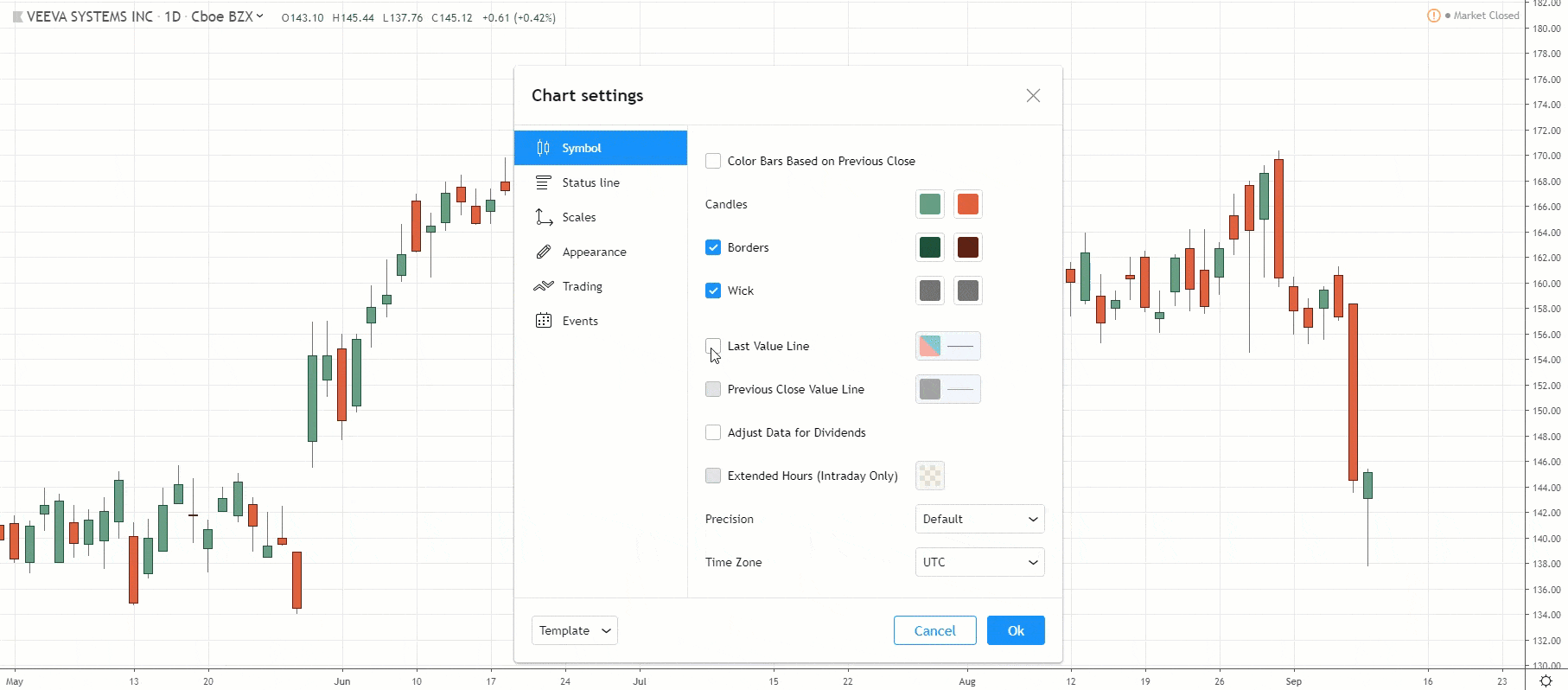 There you have it, it's pretty fast!
What is Adjust Data for Dividends for?
Let's just click on it and you'll see what it's referring to.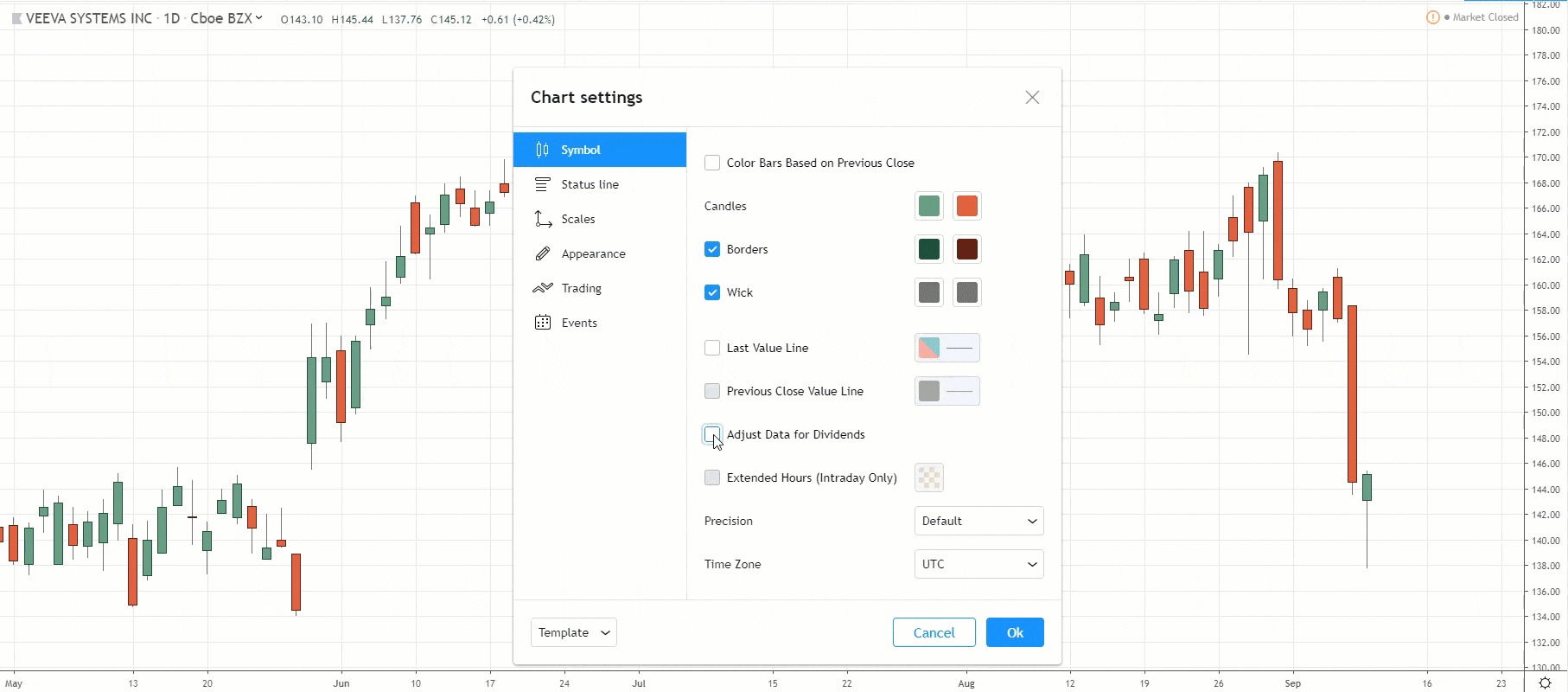 This data is now adjusted for dividend.
Status Line tab
What is this Symbol here for?
Let me uncheck this.
It's referring to this portion over here: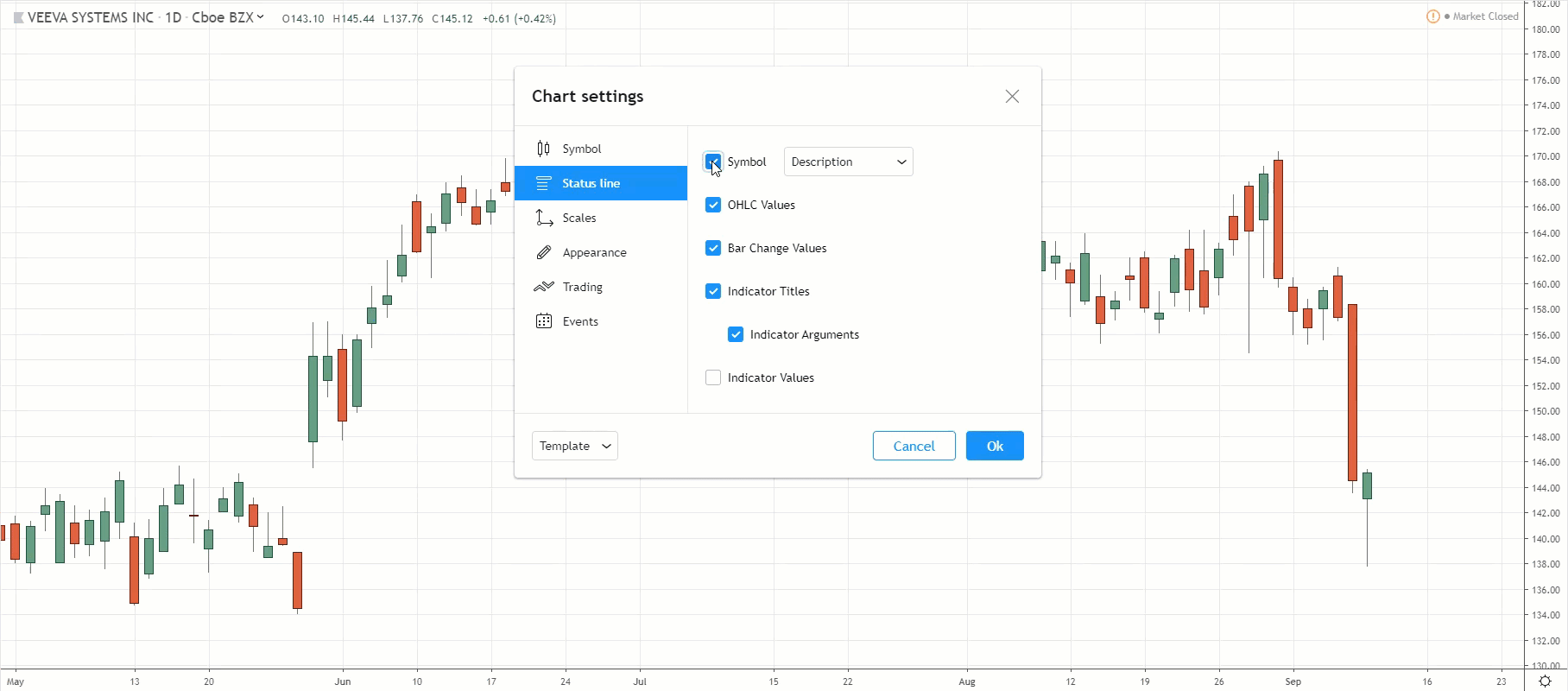 Notice that the symbol data is missing.
Check the box to bring it back on.
What are the OHLC Values?
Well, let's uncheck this.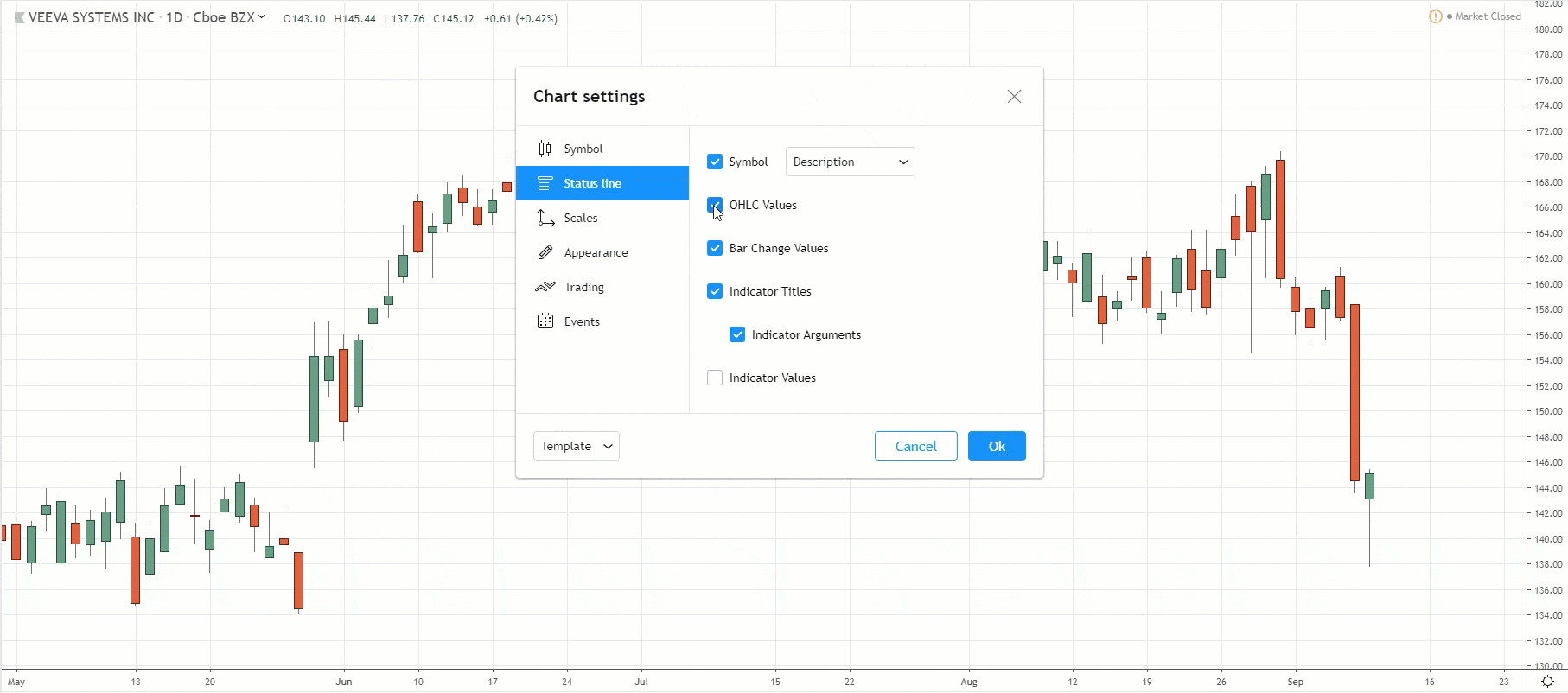 The open high low close values over at the top left corner are missing so I know it's this.
Can you see where I'm coming from?
It's simply trial and error.
You'll figure things out as you go along.
Then you've Indicator Titles, Indicator Arguments, Indicator Values.
Just uncheck it and you'll know what it's referring to.
Scales tab
So you have Symbol Last Value Label.
What the heck?
And is this red colour stuff over here: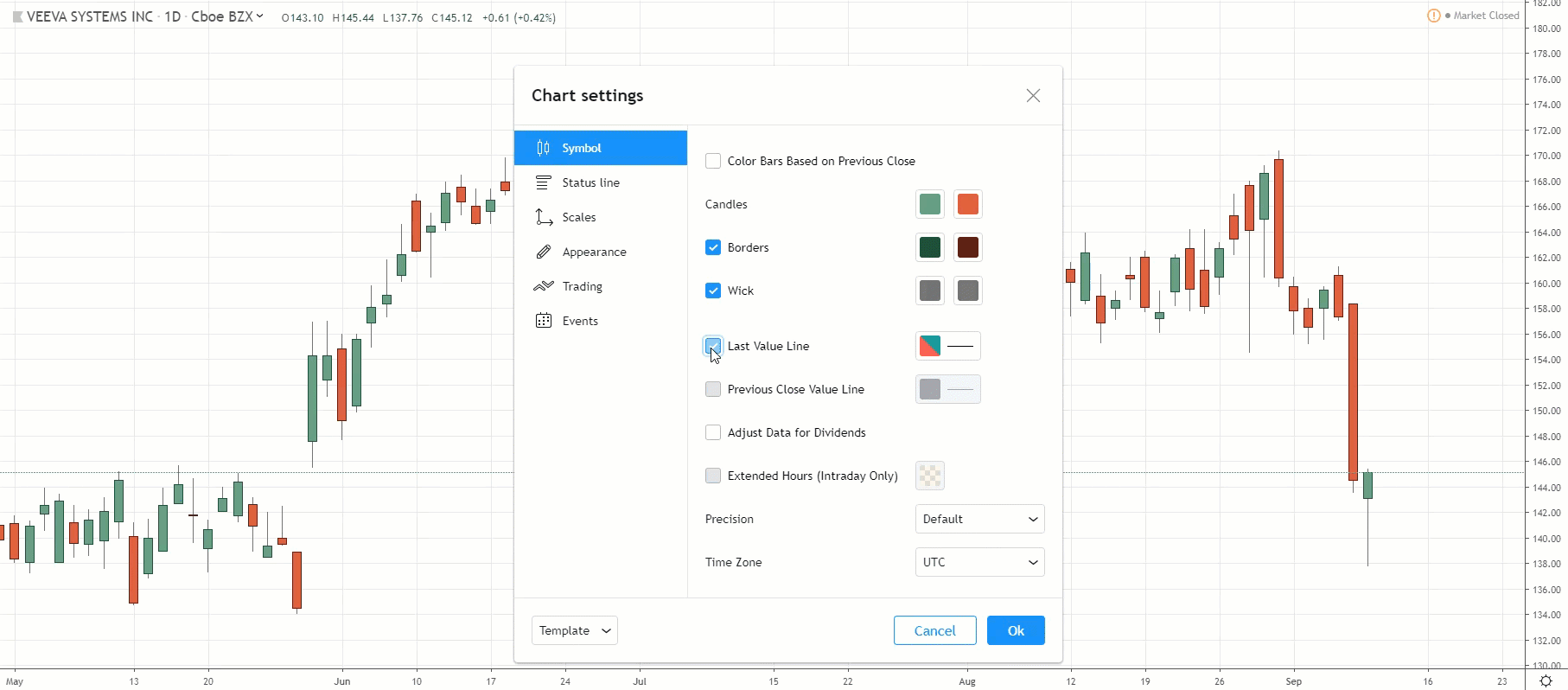 It's just telling you the latest value of the financial instrument's price.
Again, play around with all these other checkboxes over here.
Appearance tab
For the background colour, I have white.
You can change it to black if you want.
If you're a little bit more feminine, change it to pink.
Why not?
It's all up to you.
You can also change the vertical and horizontal gridlines to the colour you want.
If you're having difficulty seeing the text on your chart, you can change it to size 20.
You can also adjust the colour of your Crosshair.
If you want your chart to look better, maybe you can have a 10% Top Margin.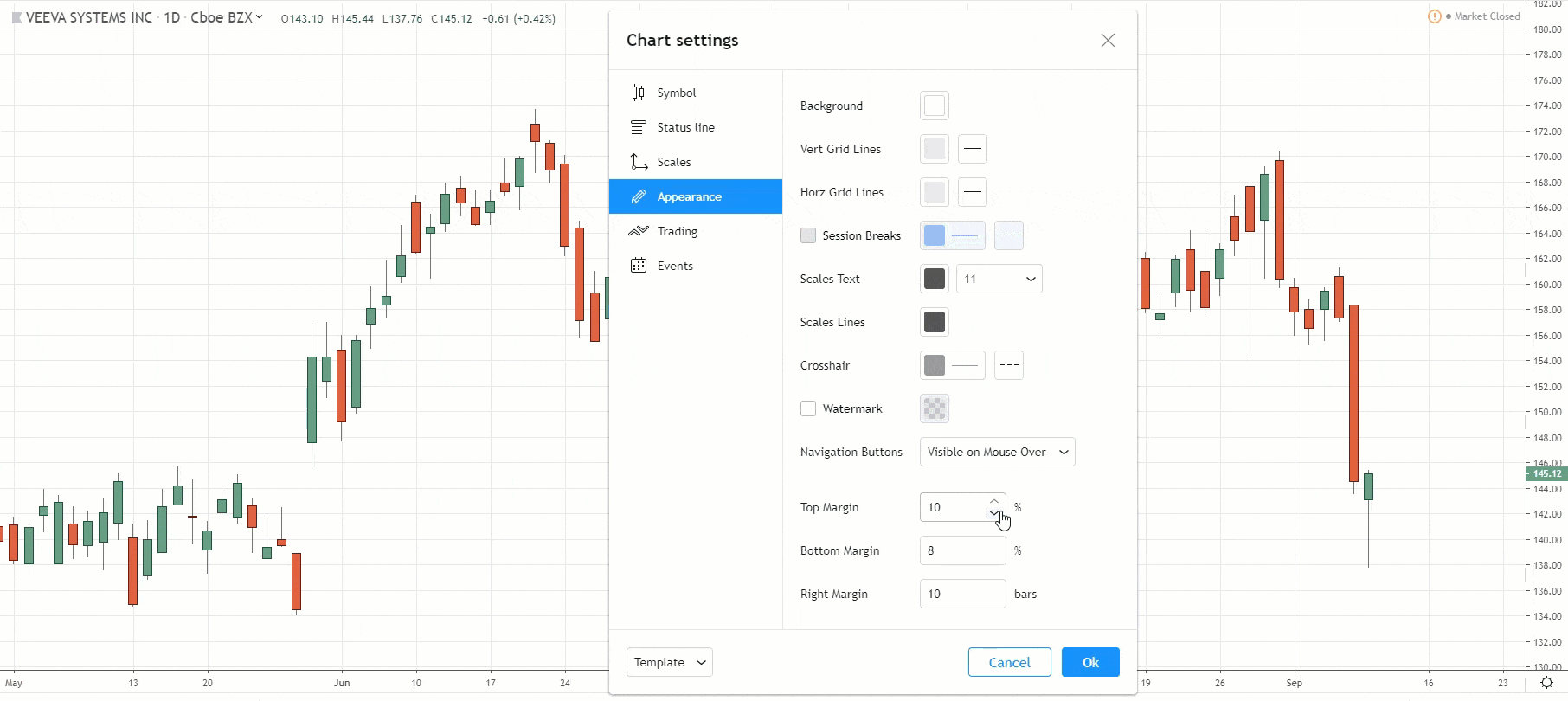 So you'll have more space at the top.
You can change the Bottom Margin and Right Margin as well.
Trading tab
If you're doing paper trading or if you've connected your broker to this platform, you can utilize this tab.
Again, check and uncheck the boxes to see which portion it is referring to.
Events tab
If you trade stocks and want to show dividends on the chart, check the first box.
If you want to show the stock splits, economic calendar or even earnings, you can check the boxes.
All can be done here on TradingView.
You probably have this fear:
"But Rayner, what if I clicked something wrong in the settings and it's all messed up?"
"Now how do I fix it man?"
I know what you mean.
Don't worry.
What you'll do is go to Template and click Apply Defaults: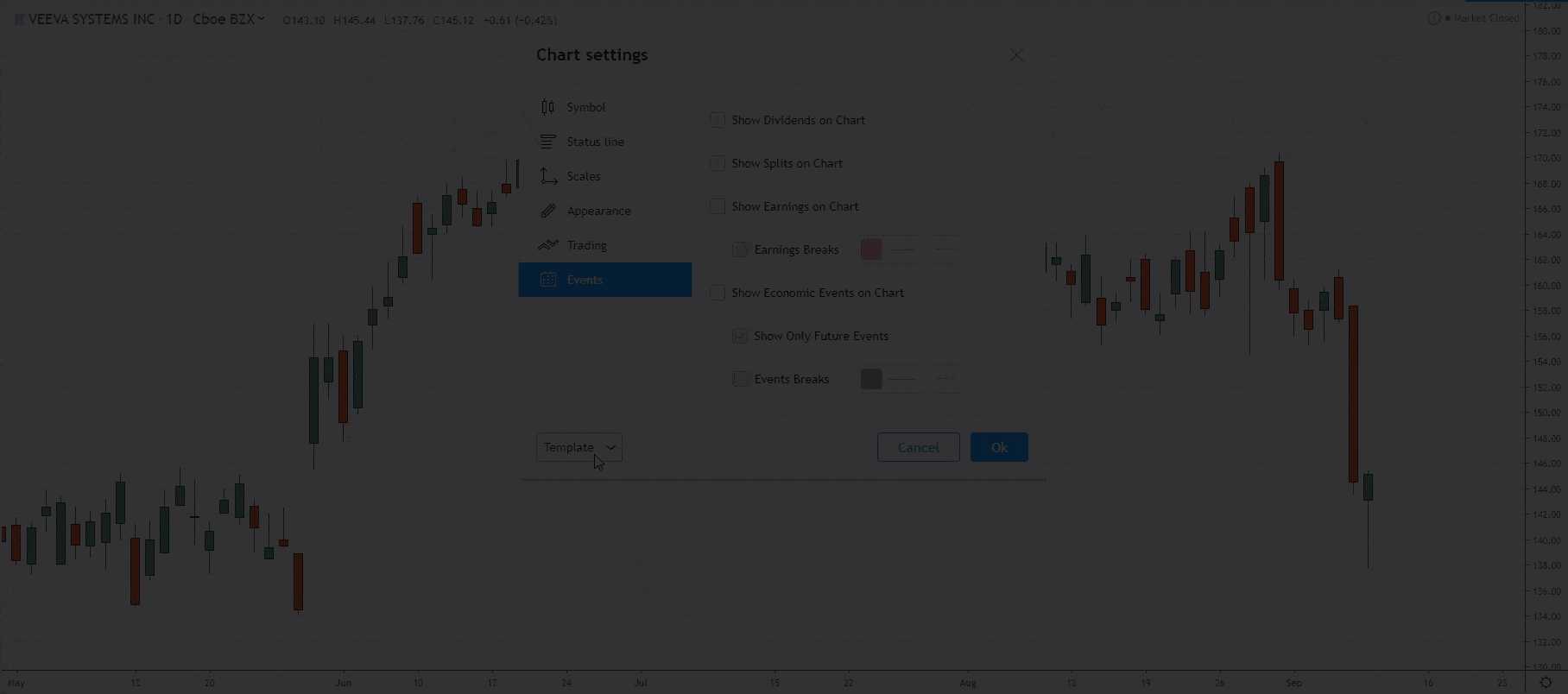 And everything will go back to the way it was.
Click OK.
Problem solved.
Once you're happy with the chart settings, you'll want to save it.
Go to the top right here, click on this arrow down: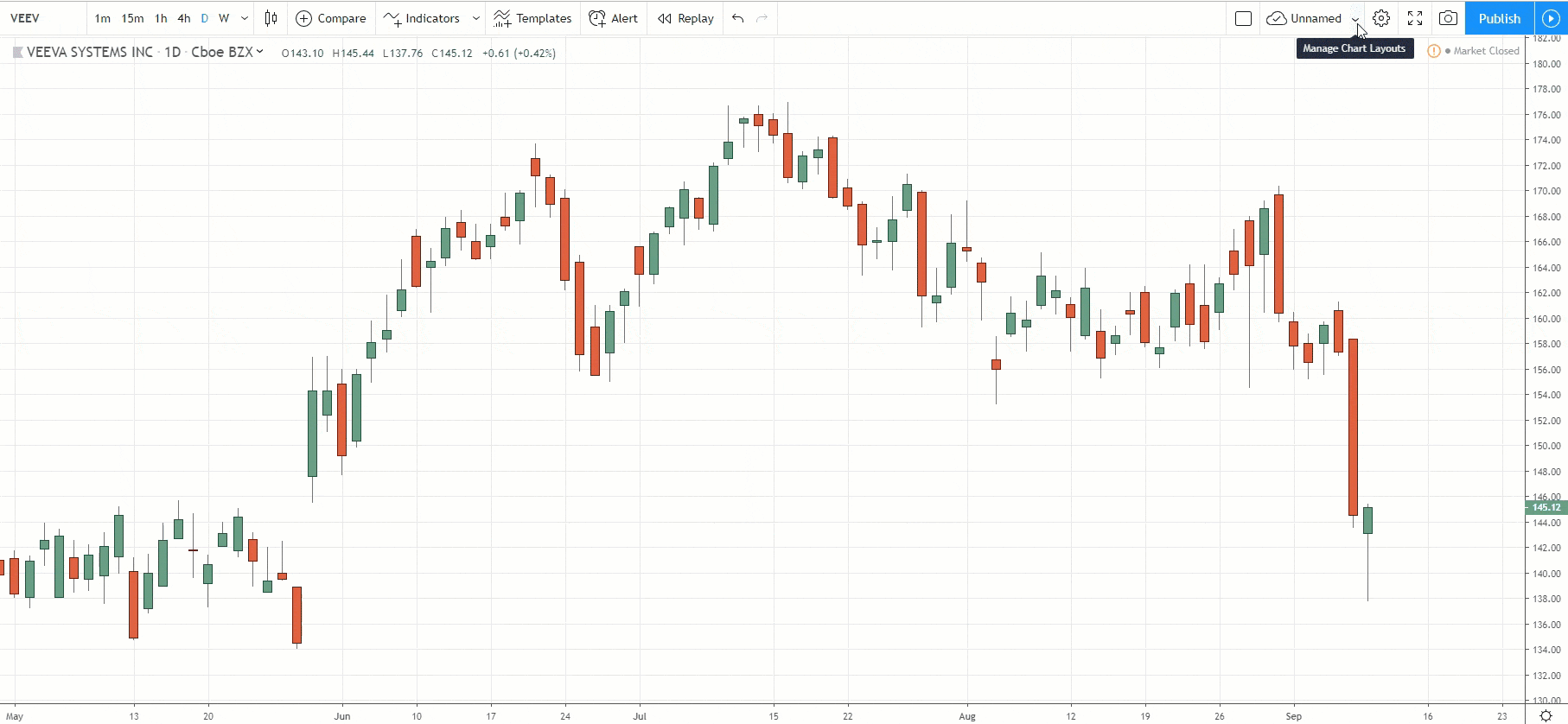 Leave the Autosave On.
This gives you peace of mind, even if you forgot to save.
And if you want to save the chart manually…
Rename the chart and click Save.
You can see that my setting is now called "I love you 3000".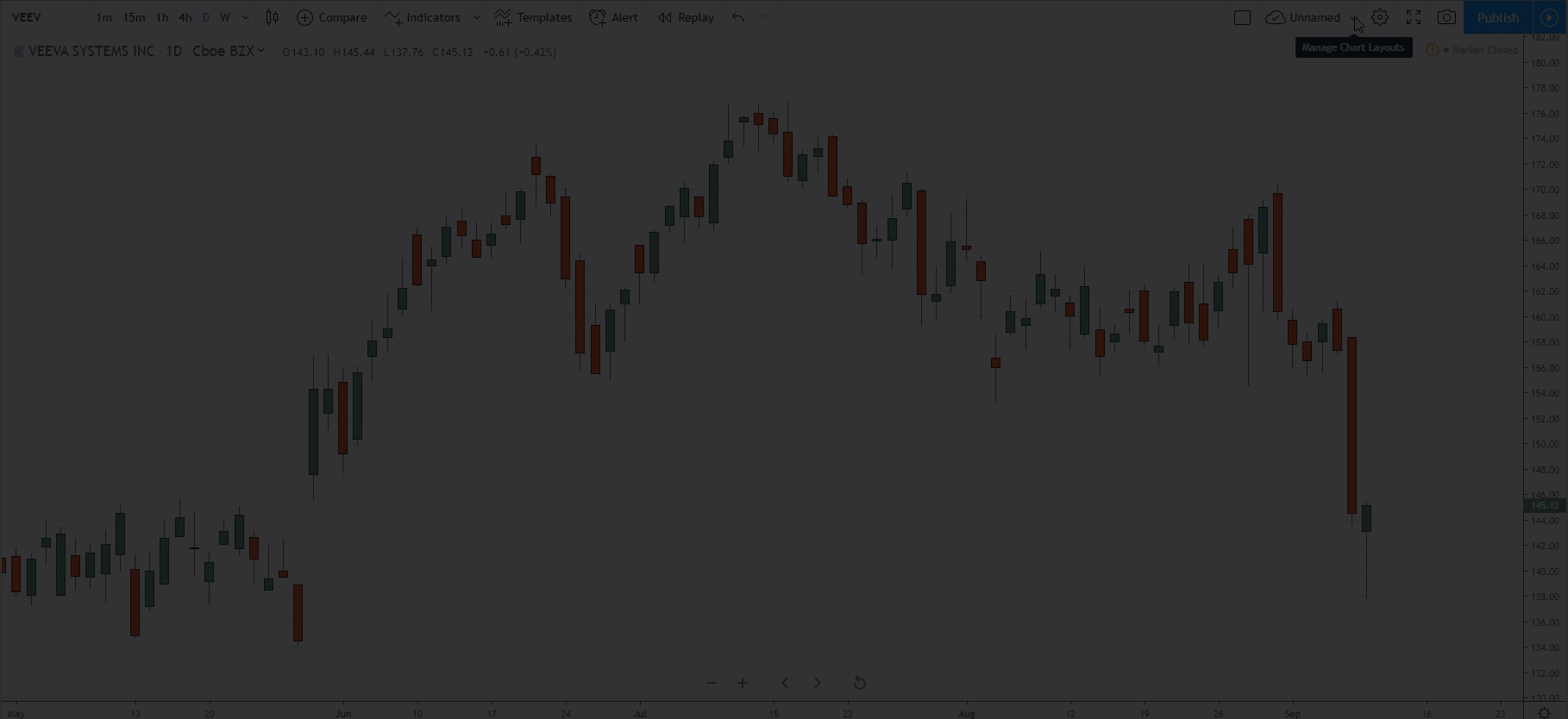 If you want an individual chart layout for price action, indicator, chart patterns etc., you can create a New Chart Layout.
This opens a new tab with the default chart layout settings.
And once you're done manipulating this chart, click Rename to call it something else.
Then hit Save.
In future when you want to go to the different chart layouts, just click Load Chart Layout: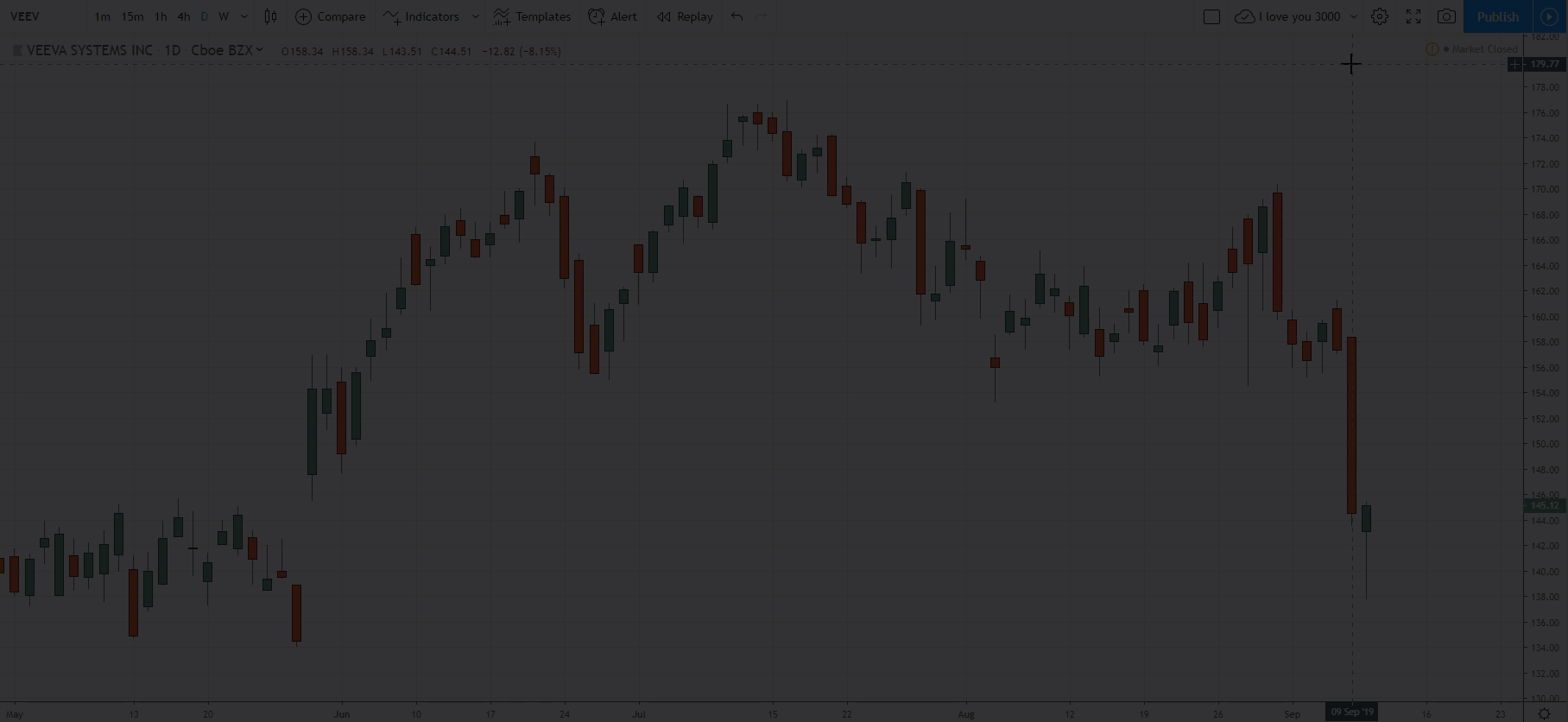 And you'll see the various layouts you've saved.
So this is how you customize your charts on TradingView.
Next...